I love animation. Well, let me rephrase that... I love good animation. There's something "pure" about a world that is wholly created and realized. Many animators understand this god-like power and use it to full advantage. But few animators are as brilliant at it as Nick Park and the geniuses at his Aardman Studios. Their most famous characters, Wallace & Gromit, are easily one of the best animated creations ever made. Any adventure of the cheese-loving gadget inventor Wallace and his genius dog Gromit is guaranteed big fun.
I love Gromit more than Mickey Mouse. More than Tigger. More than Marvin the Martian. More than any other animated character. Though he never speaks, he is more expressive than most human actors...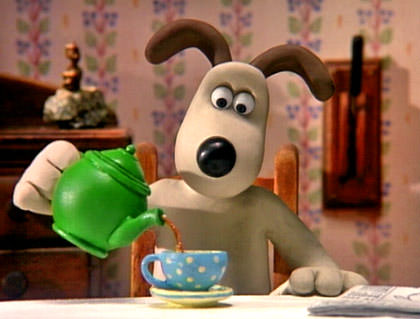 But there is one character even better than Gromit. One character destined to forever rule over animation with an iron fist. One character I obsess over: Feathers McGraw, the evil penguin criminal mastermind who disguises himself as a chicken to foil the law...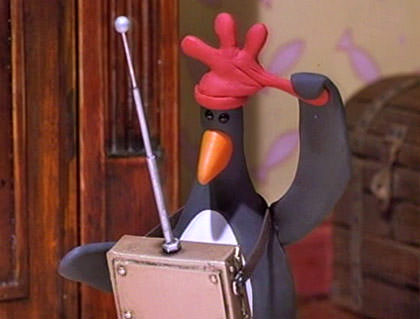 Not only that, but he carries a gun! How can you not love an evil penguin that packs heat?
The first Aardman major motion picture was the excellent Chicken Run and now, after years of waiting, a Wallace and Gromit feature arrives this October... Wallace & Gromit and the Curse of the Wererabbit! You can catch the teaser trailer from The Sun by clicking here. You can also watch a "making of" featurette by clicking here.
Never seen Wallace & Gromit? Well, if you are a Netflix user, there's a DVD of their first three adventures, and you can add it to your Rental Que. Otherwise, I think it's out of print and you'll have to try eBay or something (hopefully it will be re-issued to coincide with the movie release).
Movie Quotable of the Day:
"Now that Billy tried to mutilate her, do you think Sidney would go out with me?"
Yesterday's Answer:
Forrest Gump
(1994) with Tom Hanks and Robin Wright.