Turns out that Be Cool, while interesting in parts, is pretty much a retread of Get Shorty, but not as clever. Oh well, it was a nice diversion on a Sunday afternoon.
After the movie, I really wanted to take my motorcycle out, but I had some work that badly needed tending to. Unfortunately this would involve trying to fix my crap Windows XP system, because that's the crap OS that the crap software I need is crap required to run on. Since the only way to actually fix a Windows problem is to reformat the drive and reinstall everything, that's what I had to waste my time with. After finally getting everything running again (over an hour later), I got to work...
... only to find out that the program refuses to run under the new install. I played around trying to get it going for a couple of hours, but nothing I did worked out. All I managed to do was break the system AGAIN.
I can see now that there is truly only one solution for "fixing" Windows XP...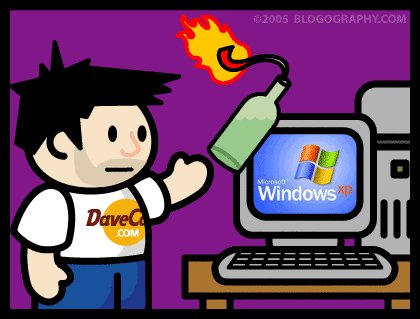 WTF?!? I mean, seriously. You can call me a Mac whore, Steve Job's bitch, or an arrogant Apple bastard... but my Mac ACTUALLY WORKS when I need to get something done. Windows XP is nothing but a bloated piece of shite that I spend more time working ON than I actually spend time working WITH. Why? Why do people who use Windows actually put up with this crap? Do you know the last time I had to reinstall the MacOS X on my laptop? NEVER!!!! It has been upgraded several times, but there's never been a reason to install the OS since the day MacOS X was released! On top of that, I never turn my PowerBook off... I just put it to sleep. My uptime is MONTHS, not mere days. If it weren't for updates and software installs, I'd probably NEVER have to reboot it.
So I just wasted an entire afternoon trying to get caught up, but instead get further behind AND missed an opportunity to ride. Just when I think Windows couldn't possibly suck more ass than it does, Microsoft proves me wrong.
Movie Quotable of the Day:
"It's supposed to be hard. If it wasn't hard, everyone would do it. The hard... is what makes it great."
Yesterday's Answer:
Groundhog Day
(1993) with Bill Murray and Andie MacDowell.