Usually when I like a television show I start counting the minutes until it's cancelled. I'm pessimistic that way. So when they cancel Cupid or Sports Night or Oh Grow Up! or Wonderfalls or any of the dozens of other shows that make for good television, I accept it the best I can and move on. There are surprises, of course (Alias and Lost come immediately to mind), but most of the time the ever convenient "low ratings" excuse makes it all too easy for short-sighted, dumbass television execs to shaft loyal viewers.
The thing that gets me is that the world of television has changed. Syndication can bring old series to life in new markets and provide a financial windfall. Releasing shows on DVD is easy money. Internet distribution is just around the corner. Who knows what new financial outlets will present themselves in the future? It's not just about the ratings anymore. And because of that, "viewer campaigns" to save shows which have customarily have -zero- effect on the minds of the networks, may actually start to be carrying some weight.
Cult favorites like Wonderfalls and Miracles that were ratings failures are getting DVD releases because of consumer demand. Shows like The Family Guy are being resurrected because of runaway DVD sales. Suddenly there's hope for the impossible.
And that's why a group of television addicts over at Television Without Pity are trying to create a preemptive strike in saving a show that hasn't even been cancelled yet. Like me, they are pessimistic about the chances of Veronica Mars getting picked up for a second season (heck, it's a miracle it hasn't been cancelled already)...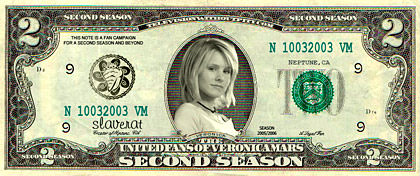 And here's the deal (thanks to wyk95 for the tip)...
Inspired by Veronica's clever ploy of writing "Veronica Mars is smarter than me" on the bills in Clash of the Tritons, a few fans thought it would be fun to design a Veronica Mars themed two dollar bill to ask for a second season. Just click here to download the custom $2 bill, print it out, then write "Veronica Mars is smarter than me" on the bills and send them to UPN (you might also include your gender, general age range, and location to show UPN that the show has a very diverse fan base). You can read more about this campaign at the TWoP boards And here's the addresses for the top UPN executives and the UPN affiliates.
Since I'm a big fan of Veronica Mars, I'll be sending mine, hoping we can contribute even a little bit to save a brilliant show from premature cancellation. Or maybe not. But it certainly can't hurt.
Movie Quotable of the Day:
"So raise your hand if you think that was a Russian water tentacle!"
Yesterday's Answer:
Superman II
(1980) with Christopher Reeve and Gene Hackman.