Given that this is my only full day in the city, I had made detailed plans as to how I wanted to spend it. I wrote down everything I wanted to see, then mapped from point to point, ensuring that I had the most efficient route planned. This is not the way I enjoy sightseeing, I loathe time-structured travel but, given my time constraints, it was the only thing I could do.
Museu Picasso: Most people only associate Pablo Picasso with his later, more surreal and abstract art. What seems to be overlooked is his earlier and equally brilliant works, forming a foundation from which his methods and stylistic choices were built. While a very nice museum, I actually think that Picasso is better represented in other venues I've seen. I was, however, blown away by a temporary exhibit of Alberto Magnelli works. This artist has a huge influence over my own painting efforts, and I was beside myself with excitement when I realized he was showing here. I've never seen so many of his works in one place, and cannot believe my good fortune in having seen this exhibit (it ends on Sunday!!). Sometimes I am the luckiest person on the planet.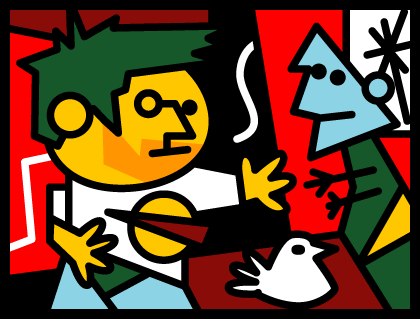 The Arc del Triomf: A beautiful structure, and part of my effort to see city arches whenever I find them.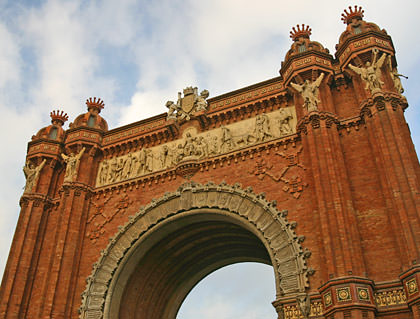 The Sagrada Familia: This was the most important thing on my list to see. To me, Gaudi is Barcelona, and this Modernista architectural marvel is his undisputed masterpiece even though it remains unfinished to this day, and he died before much was done on it. Wherever you look you see beauty in every form and, once it has been completed, I will be returning to Barcelona to see it (hopefully it will be finished in my lifetime!). Despite my extreme fear of heights, I took the lift to the top, and did my best to subdue my terror so I could look out over the city and better inspect the cathedral.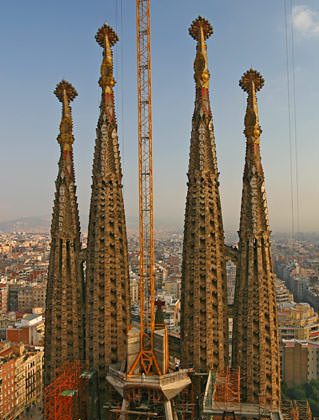 Casa Mila: Another Modernista wonder by Gaudi, Casa Mila is a bizarre structure, yet undeniably beautiful. There's something almost sinister about a building with no straight lines, but it somehow comes together as a compelling work of art.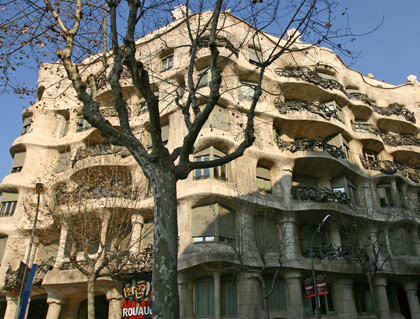 Fundacio Joan Miro: I will admit I am not a Miro fan. On the contrary, I pretty much dislike every piece of "art" I've ever seen of his. Unlike Picasso, I never get the feeling that there's any talent behind his artistic endeavors, and they don't evoke any sort of emotional response either. All I see is a bunch of paint slopped on a canvas for no discernible reason. I did enjoy his "Barcelona Series" of lithographs, which are amusing doodles... almost cartoon-like in nature, but that was about it.
Museu Frederic Mares: This has to be one of the strangest museums I've ever seen. Mares collected very specific subjects, and being able to contrast and compare dozens of different versions inspired by the same source is enlightening. For example, where most museums would be content with one or two carvings of Jesus on the cross, Mares decided to show hundreds of them. All somewhat the same, but very different at the same time.
Salvador Dali: There wasn't time to visit Teatro-Museo Dali in Girona, but I was sure to stop by the exhibition here in Barcelona. Dali did so much more than the "melting clocks" that made him famous, and a nice chunk of that was on display, along with Dali photographs and sculpture.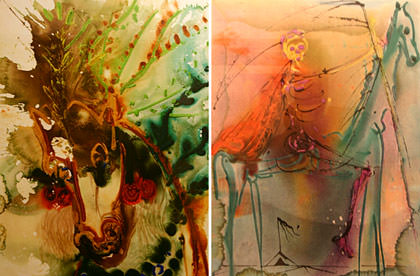 All in all, a very full day that had me bouncing from one corner of the city to the other. Fortunately, Barcelona has an excellent public transportation, anchored by a terrific subway system. This allowed me to see everything on my list, and a few extra sights along the way. Only problem is that my legs are hurting from all the walking, and I am completely exhausted. I'd go to bed early and try to recover, but I'm meeting a friend for dinner and don't want to miss that!