Apparently, the rain gods were not done with me yet. In the morning I took a walk to get some photos and it was overcast but nothing serious. An hour later when I checked out of the Wyndham, it was pouring buckets once again. Fortunately, by the time I was an hour out, the skies cleared up.
Now that I've come full-circle, my odometer is telling me I put a total of 1558 miles in...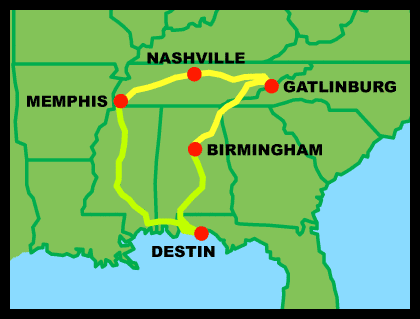 My work wasn't starting until 1:00, which gave me plenty of time to stop by Germantown on my way into the city. This suburb of Memphis is infamous for the Apple Store sign fiasco a while back. If you've ever visited an Apple Store, you know that the only signage is a giant glowing Apple logo. Well, that's a double strike-out, because 1)You can't use food items in Germantown signage, including an apple and 2)You cannot have any self-illuminating signs either. It was eventually all worked out, but the store opening was delayed an entire month while the debate raged on...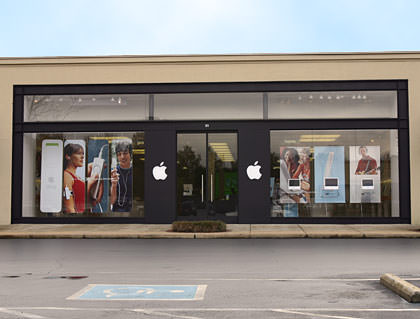 The reason I stopped was to see if I could get some kind of deal on a new PowerBook, but there was no deal to be had. That's kind of a shame, because I would have purchased one on the spot if they had only offered to pop in some extra RAM or something. I guess Apple being Apple doesn't feel the need to deal. Oh well, when I can managed to scrape some money together, I'll just order one online. I sure hope they've improved the durability of the latch in the newer models.
Work finished early, which means I was able to change my flight to go home tomorrow instead of Wednesday, which is kind of nice. One more extra day at home before I have to ship out again. With my reservations changed, it's off to the Hard Rock for an early dinner, then onward to the lobby of the Peabody to have a drink and visit the ducks...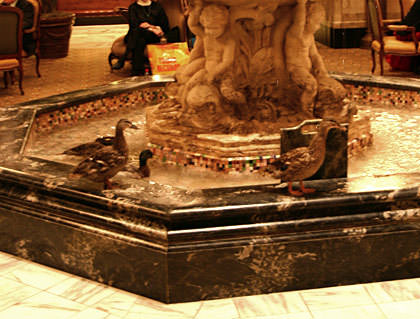 The Peabody is yet another landmark historic hotel that I enjoy quite a lot. On top of that, there's ducks, of course. Legend has it that manager of the hotel had a drunken inspiration to release his live decoy ducks into the lobby fountain. That was in 1931, and there are still ducks there today. In fact, now it's a daily ritual where red carpet is rolled out and the ducks descend in their private elevator from their penthouse retreat every morning at 11:00am, then return via the red carpet treatment at 5:00pm after playing in the fountain all afternoon. It's an amazing site, with band music, a Duck Master leader, and an entire lobby full of people cheering on a bunch of waterfowl. Good times.