We're sliding toward home on Forgotten Domains Week, where I review domains I own but have forgotten over the years. This time we're going to work...
DAY FIVE: CRITICALDUCK.COM
I was an early fan of digital video back in the days when "digital video" meant you needed a $3000 digitizing card, a high-end Mac, and a "massive" hard disk array with a pricey high-speed SCSI interface. Even then, the results were unpredictable and problematic. Skipped video frames and audio-sync issues were the norm, not the exception. Of course, now even a $500 Mac Mini can easily edit video with no additional hardware, and then burn a DVD of the project once you're done (assuming you have a SuperDrive).
Anyway, sometime between then and now, when the DV format was just starting to make things half-way affordable, a friend and I decided to invest in an expensive DV camera and start a video production company. He would shoot the footage, and I would edit it and design the visuals. In order to get some practice, I shot some tape of a rubber duck to edit with. That footage set the tone for the company, and gave us a name...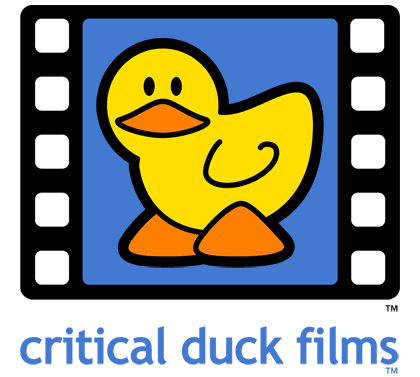 Off-and-on for two years, we made instructional videos, promotional videos, educational videos, and even a music video! But it never ended up being enough income to quit our day-jobs, and eventually we wanted out. So we sold the camera, he took the software, I took the name, and it was over.
I still love digital video, and every once in a while I find myself wanting to get back into the game. Maybe one day Critical Duck will ride again?