Hello and welcome to Blogography's Forgotten Domains Week!! Each day I plan on picking one of the dozens of domain names I own and explaining why I bought it, what I had planned for it, and what eventually happened to cause it being forgotten. So I'm sorry if you find this kind of self-indulgence boring but, what can I say, with the exception of MacWorld (which I am unable to attend) this is a pretty slow week for activities.
DAY ONE: DAVETOPIA.COM
Ah yes, to understand the story behind Davetopia, we must travel back in time to 1984... the year I graduated, and the year a film titled The Adventures of Buckaroo Banzai: Across the Eighth Dimension was released. The film itself has many impressionable moments (including my favorite quote line from a movie ever: "No matter where you go, there you are"), but one thing about this bizarre alien invasion flick really stuck with me...
All of the aliens were named John.
John Little John, John Bigboote, John Parker, John Whorfin, John Ya Ya, etc. For some reason I just found it hysterically funny. So much so that I decided to name everybody, everything, and every place "Dave." Eventually I got over it, but I annoyed all my friends, co-workers, and family for weeks. I was so obsessed that I wrote a computer program called "DaveWorld" on my Atari 800 computer. This "killer app" was a random fake news generator for an imaginary place I called "DaveWorld."
The DaveWorld Times would generate stories like this: 15 Davember, 1984. Today in Daveburg, Dave Davidson won the Davenia Cup as his prized Daverian Husky took top honors in all categories. "I'm thrilled!" said Davidson as he headed off to spend his winnings on a vacation in Davapulco." or some such nonsense like that. Then, for no good reason at all, when the internet started exploding ten years later, I was bored and moved DaveWorld to the web.
The web-based "DaveWorld" was constantly evolving, and dozens of people ended up working on improving it at one time or another. Eventually, it was a fairly complex "living world" that had everything from weather patterns and politics to geographical data and road maps...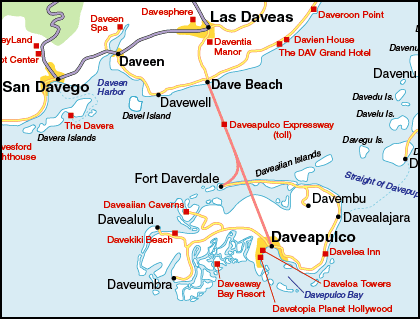 At one point, DaveWorld was a popular geeky place to hang out... but it ended up eating up so much of my free time that I eventually decided to close it down. But, over the years, I'd occasionally get an email from somebody asking me "whatever happened to DaveWorld" and "are you that DaveWorld guy?" Fast forward to the year 2000, and I had the idea to resurrect DaveWorld again with the latest web technologies and have some fun with it. Problem was, "DaveWorld.com" had already been taken. So I decided to use "Davetopia.com" instead.
Problem was, I never had time to work on Davetopia, so the idea kind of died off. I still keep paying on the domain in case I change my mind or have some extra time on my hands, but it's been pretty much forgotten for a few years now. That's more than a little bit sad to me, because back when the internet was young, it sure was a lot of fun.