Finally got around to seeing Wes Anderson's latest masterpiece... The Life Aquatic with Steve Zissou starring Bill Murray and numerous other talented people. This film received a disappointing 50% over at Rotten Tomatoes which leaves me flabbergasted, because I think it is easily one of the best films released in 2004. Not only is Murray's acerbic wit in full force, but all of Anderson's usual comedic touches are sprinkled throughout the film like candy, waiting to be discovered, unwrapped, and savored.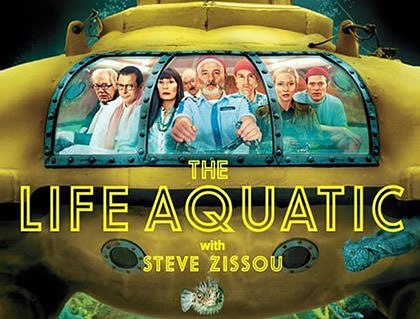 Aquatic tells the story of once-famous (but now washed up) oceanographer-filmmaker Steve Zissou who is hoping to hunt down a kill the mysterious "leopard shark" that ate his best friend. He also plans on documenting the adventure to create a new film which he hopes will bring him back to the limelight. Along the way he has to deal with a stranger who may or may not be his son (Owen Wilson), a failing marriage (to Angelica Houston), overwhelming competition (Jeff Goldblum), and a myriad of money trials to finance the operation.
And all of it is hysterically funny, of course.
What's truly magical about the film is the detours into occasional fantasy with stop-motion animated sea life (Sugar Crabs! Electric Jellyfish! Rhinestone Bluefins!) and a cut-away set that's entirely brilliant...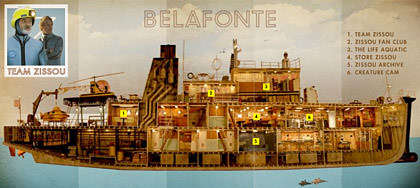 I understand that the comedy in this film is miles away from more pedestrian fare like you'll find in the latest Adam Sandler flick, but if you like a little intelligence to your funny, I can't recommend The Life Aquatic highly enough.