As an "end-of-year" wrap up, I thought I'd expand upon the "End of Year Quiz" I took just a few days ago...
Biggest annoyance. Other than crappy lip-syncing music acts topping the charts and an over-abundance of stupid reality shows on television, I'd have to say my deaf neighbors. The apartment complex I live in is rented almost entirely to elderly people, most of which have horrible hearing problems. Rather than getting hearing aids, they would instead prefer to scream at each other at all hours, slam every door every time, play their televisions at full-volume, and say "WHAT WAS THAT?" over and over and over again. I moved here because I wanted peace and quite, but it ends up that these people are noisier than a 24-7 party at a frat house. Annoying doesn't even begin to cover it.
Biggest disappointment. Too many things stayed the same or got worse in 2004.
Biggest encouragement. In the past year, traffic to my blog has steadily increased. This has encouraged me to keep blogging, even when I've considered dropping it. I thought that my visitor counts were amazing at the beginning of the year, but it was nothing compared to how the year would end (in fact, it even graphs as nothing!)...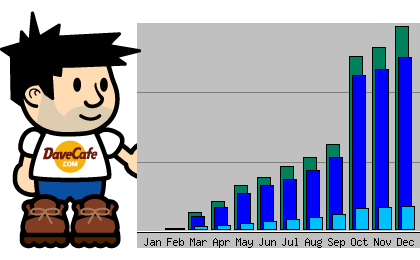 Biggest shock. That would be a tie between President Bush actually winning re-election and the current crisis in Asia.
Biggest jerk. Whoever is responsible for canceling Wonderfalls at Fox Television.
Biggest bitch. With Martha in prison and Dr. Laura shoved to insignificance, I'm left choosing between f#@%ing freak Judge Judy, f#@%ing insane Anne Coulter, and - oh - wait a second... no need to go further, It's Ann Coulter alright. Somebody needs to slap that stupid bitch. Hard.
Biggest bastard. There's a number of jerks, idiots, and asshats that are in contention for this spot, and - oh - wait a second... I'm pretty sure it's got to be Ann Coulter. Somebody needs to slap that stupid bastard. Hard.
Biggest idiot. I tried to ma-- oh, who am I kidding... it's Ann Coulter again. Somebody needs to slap that stupid idiot. Hard.
Biggest fun. Finally hitting my 100th Hard Rock!
Biggest discovery. I picked up the DVD set for the first season of Roswell (which aired on WB and UPN before I had WB and UPN) simply because it was cheap. $14 for 22 hours of television? Sign me up! I had heard good buzz about it, but thought it was some kind of stupid teen angst show with lame sci-fi elements tossed in. Imagine my surprise to find that it's actually a really good series.
Biggest surprise. I managed to keep this blog going for the entire year! We'll see what 2005 will bring.