I've been a bit under the weather lately, which has involved my working at home from time to time. Since I live in an apartment complex, I usually like to work with some background noise playing to mask the distractions caused by the other people living here. Usually, it's a DVD of some television show or an old movie that I've seen before (if it were new, I'd want to watch instead of work).
Since they just released the third season of The West Wing, I decided I would start watching the entire series from the beginning. It's an excellent show, especially the earlier seasons, and I was interested to know how they would run when viewed back to back to back. The dialogue is so dense, that I was guessing it would be exhausting.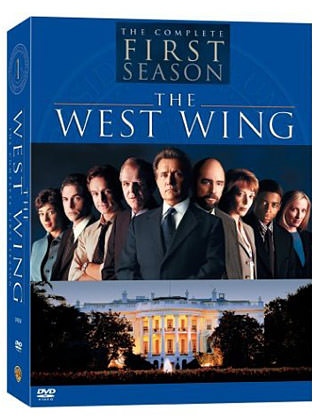 But it's not exhausting, it's exhilarating. Except for just one thing... one thing that has driven me bat-ass crazy nuts from the very first episode... I loathe the character of "Toby Zeigler."
I don't know if it's how the character is written, or (more likely) how actor Richard Schiff portrays him, but I loathe him. From his very first scene in the very first episode where he's a total prick arguing with a flight attendant, to every other scene he's ever appeared in... I loathe him. He's an arrogant, obnoxious, irritating asshole that disrupts the "flow" of the show, and I wish there was a special feature on the DVDs that would allow you to view a version of each episode that's Toby-free. Something tells me it would be much better that way.