Seriously... how do we go about repealing the antiquated and horrendously stupid electoral voting system here? I don't care which side of the political spectrum you might lay, how can anybody not support the idea of every vote counting? Does anyone (except those comprising the Electoral College) seriously want it this way? Why hasn't a repeal of the 12th Amendment ever been offered to the people? How do we get it put to a vote? Anybody?
Seriously... can't Dave Winer just leave us alone? First he decides to define moblogging for us... badly, and now he's decided to tell us that unless we're reading syndication feeds his way, then we're doing it all wrong. I have no problem with Winer publishing his opinion, but he never seems content to do just that. Instead it's always "Winer's right, everybody else is wrong." End of story. Why can't he just be happy that people are using syndication and suggest a way that works best for him, rather than attacking people who have found a different way of doing things? Shades of gray Dave... shades of gray.
Seriously... why is it that movie comedies can't be complex and intelligent anymore? Have people's attention spans truly diminished to such a low that dumb-ass burp and fart jokes are all we're going to get now? It certainly seems that way. I just purchased the long-awaited DVD release of Foul Play and am amazed that a film starring Goldie Hawn and Chevy Chase could be so brilliant while also being so funny at the same time. What's truly amazing is that there are no wasted moments in this film. Even seemingly meaningless scenes are subtext that builds the story. Things going on in the background are essential to solving the mystery they've got going. Unlike the typical Adam Sandler crapfest, you actually have to pay attention... but it's so well-written that you don't care, you want to pay attention (which is cruel, because there are some seat-jumping moments you never see coming). And it was made in 1978. We've certainly dumbed down in the past 26 years. A "comedy" as smart as Foul Play would never be green-lighted today.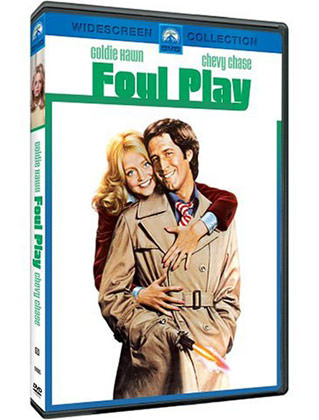 Seriously... who is the moron that put David Caruso at the head of C.S.I. Miami? I love the original C.S.I. and am won over by the grittier take on the concept with C.S.I. New York. But I cannot bring myself to get through a single episode of Miami because Caruso is so laughably bad doing his overly-dramatic, arrogant, Gil Grissom impersonation. If Caruso can't be bothered to actually act out something original, can we put Emily Procter's character in charge?
Seriously... why do I feel compelled to participate in really time-consuming and difficult memes? This time I have Dennis to blame. To read through my "Nine Layers," just click the link below...
LAYER ONE:
Name: Dave.
Birth date: March 24.
Birthplace: San Diego, CA.
Current Location: Washington State.
Eye Color: Dark Brown to Black.
Hair Color: Dark Brown to Black.
Height: 6'2".
Righty or Lefty: I'm ambidextrous, but favor my right hand strongly.
Zodiac Sign: Ares.

LAYER TWO:
Your heritage: English, Scottish, German, Dutch.
The shoes you wore today: None. I'm not feeling well, and stayed at home to work.
Your weakness: Elizabeth Hurley.
Your fears: Bugs.
Your perfect pizza: Two slices of DaVinci at David's Pizza in Spokane, Washington.
Goal you'd like to achieve: Inner peace.
LAYER THREE:
Your most overused phrase on AIM: "WTF?"
Your first waking thoughts: "Why can't I ever get a decent night's sleep?"
Your best physical feature: My ass. Ha ha ha.
Your most missed memory: Early days of computing back when computers were new and fun.
LAYER FOUR:
Pepsi or Coke: Pepsi.
McDonald's or Burger King: McDonalds.
Single or group dates: Single.
Adidas or Nike: Nike.
Lipton Ice Tea or Nestea: Neither. Both are utter crap for tea.
Chocolate or vanilla: Chocolate. But only in small doses.
Cappuccino or coffee: Neither. I don't drink coffees.
LAYER FIVE:
Smoke: No.
Cuss: Too often.
Sing: Only when incredibly drunk.
Take a shower everyday: Yes.
Do you think you've been in love: Yes.
Want to go to college: Already have. Wouldn't mind going back for more.
Liked high school: No. It bored me.
Want to get married: If the right woman comes along, I wouldn't oppose it.
Believe in yourself: To a fault.
Get motion sickness: No.
Think you're attractive: Not even a little.
Think you're a health freak: No, though I am a vegetarian and consider that to be healthier than eating meat.
Get along with your parent(s): Yes.
Like thunderstorms: Definietely.
Play an instrument: Not so much anymore. Used to play clarinet, saxaphone, drums, and a bit of keyboards.
LAYER SIX: In the past month...
Drank alcohol: Yes.
Smoked: No.
Done a drug: No.
Made Out: No.
Gone on a date: Yes.
Gone to the mall: Yes.
Eaten an entire box of Oreos: No.
Eaten sushi: No.
Been on stage: Yes. Well, karaoke.
Been dumped: No.
Gone skating: Rollerblading.
Made homemade cookies: No.
Dyed your hair: No.
Stolen Anything: No.
LAYER SEVEN: Ever...
Played a game that required removal of clothing: Yes.
If so, was it mixed company: Yes.
Been trashed or extremely intoxicated: Too many times.
Been caught "doing something": Yes.
Been called a tease: Yes. But I am sure she was kidding.
Gotten beaten up: Yes. Fighting is not my strong suit.
Shoplifted: No.
Changed who you were to fit in: Yes. But not how you think... I try to blend in when traveling to foreign countries.
LAYER EIGHT:
Age you hope to be married: I don't "hope" for marriage. If it happens, it happens.
Numbers and Names of Children: I'm not sure I want kids, but my favorite names are Evan and Nikkole.
Describe your Dream Wedding: Justice of the peace. I loathe ceremony.
How do you want to die: I waffle between "in my sleep" and doing something radical like skydiving.
Where you want to go to college: If I were to ever return? University of Washington.
What do you want to be when you grow up: Pirate.
What country would you most like to visit: Either Australia, China, or Greece.
LAYER NINE:
Number of drugs taken illegally: Uhhhh... four?
Number of people I could trust with my life: Seven.
Number of CDs that I own: What's a CD? Mine are all in storage, I buy digital now. If you want the number of albums, it would be around 350.
Number of piercings: I had one in my ear, but pulled it four years ago.
Number of tattoos: None. I absolutely will get one some day, however.
Number of times my name has appeared in the newspaper? : Haven't a clue. Five that I can recall.
Number of scars on my body: Four.
Number of things in my past that I regret: One.