Hooray! The Mozilla Firefox browser has finally reached 1.0 release! If you're a MacOS X user like me, you're probably perfectly happy using Safari to browse the web... but there's always that occasional site that doesn't seem to work properly, which is why it's good to have Firefox sitting in your Applications folder. It's fast, friendly, does a great job, and may just become your browser of choice.
Of course, if you're a Microsoft Windows victim that's been suffering with Internet Explorer, then Firefox is a dream come true... it's a superior product in every way that will finally display the web the way designers meant for it to be seen, and protect you from spyware and other nastiness the IE invites. Go download it right away.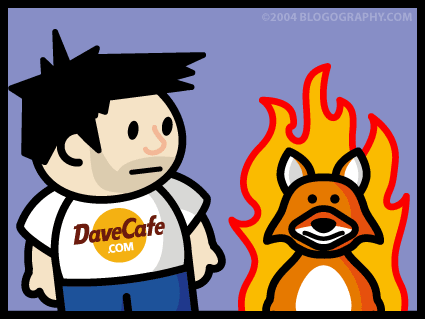 Happy as I am, I have to admit that every time I read some blog saying "FIREFOX IS OUT," something entirely different comes to mind...
Or maybe this...
Or perhaps this...
Congratulations to the entire Mozilla team for a job well done!