Maher: It would seem that Bill Maher's ex girlfriend is suing him for 9 million dollars. She is claiming that he had her quit her successful career as a Delta Airlines flight attendant with false promises of marriage and buying her a home in Beverly Hills. REMINDER TO SELF: When flying to Salt Lake City this Sunday on Delta, be sure to ask the flight attendant where I can pick up a job application. I loathe the idea of dealing with bitchy passengers all day long, but would gladly do so for the millions of dollars they apparently make.
Lost: I just realized that I forgot to watch the amazing new J.J. Abrams show, Lost, last night! Thank heaven for TiVo!
Jeunet: One of the most brilliant directors in cinema, Jeanne-Pierre Jeunet (who crafted the utterly amazing film Amelie) has a new movie coming out with strong "Best Picture" Oscar buzz called A Very Long Engagement. I cannot wait to see this film, and have watched the trailer at least a dozen times now (drooling over the delicious Audrey Tautou and the breathtaking visuals again and again). Today I learned that this new movie which is set in France, filmed in France, and uses a cast of French actors and technicians, is now being challenged in French court as to whether is a French film and thus eligible for government subsidies. It's nice to know that the USA is not the only country suffering from a serious lapse in logic lately.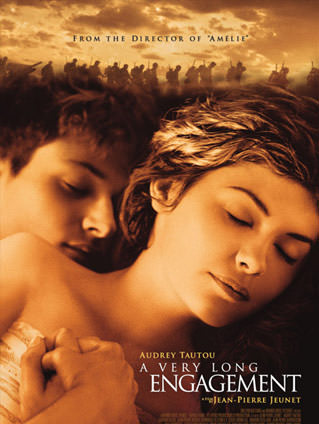 Koolerz: Last night I picked me up some "Koolerz Piña Colada flavored Gum" to take to work with me. Today I was dismayed to find out that the gum tastes *fabulous* for 48 seconds (I timed it!), but then all the flavor is gone and you're just chewing a substance that tastes like motor oil on plastic. I was wracking my brain to try and think of another product you can buy that satisfies for such an astoundingly short time period of time... and then remembered my worthless Panasonic Recordable DVD Player, which satisfied me for only 42 seconds. Fortunately, the gum only cost $1.29.
Thanks: For all who served. Thank you.