Apple! I wish I were in London right now. Not just because I love the city and have a number of friends living "over the pond," but because Europe's first Apple Store is opening up there this weekend on Regent Street (in a pretty cool location just off Oxford Circus). Sure it looks to be much like the stores in Chicago, New York, L.A., and Tokyo that I've already been to, but these "flagship" Apple Stores are all so cool that I'd like to keep up with them as they open up if I can.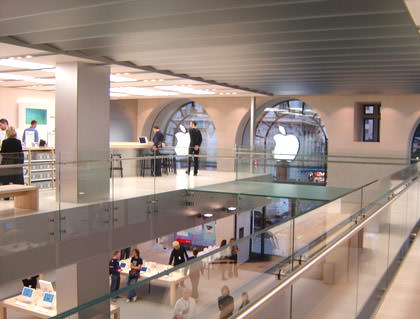 Ze! It's always cool when one of my favorite sites gets a little notice, and this time it's a really good one. Ze Frank's latest triumph: "Punctuation Substitution for Passive Aggressive Communication Solutions" is making its way around the blogosphere, and is too funny. If you like it, be sure to check out all of the other crazy and cool things he's made for ZeFrank.com ("How to Dance Properly" is what he's most known for, and is still one of his best).
Berg! The site for Blade: Trinity seems to have been updated with more images and information. While I enjoyed the previous Blade films, this one has me really anxious because it has one of the funniest guys on the planet in it... RYAN RENOLDS!! First coming to prominence as "Berg" in Two Guys, A Girl, and A Pizza Place Renolds then drifted through a number of guest appearances in films (like Dick) and TV shows (like Scrubs) before hitting the big time in Van Wilder. Now he's got a primo part in the latest Blade film, and seems to have really buffed up in a bid to become an action hero...
Of course, it doesn't hurt that hottie Jessica Biel is along for the ride playing Whistler's daughter...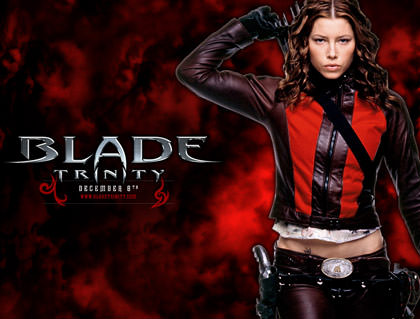 Porn! My workload is so overwhelming just now that I can't really take on anything more, but every once in a while an offer of work comes my way that I'm sorely tempted to take anyway. This morning I got a rather serious email wanting me to develop an e-commerce site for porn! I've accumulated a pretty diverse body of work over the years, but haven't done any work involving pornography before. Sadly, I don't have any time available before Spring of next year, so I had to decline. Such a shame, because having porn in my portfolio would certainly spice things up a bit!
Rated! Also in my email box was a request from a "concerned parent" to add ratings to my blog so that it can be properly identified as "adult content." Apparently, her 14-year-old son was searching for cartoons on the internet, stumbled across the "DaveToons" here on Blogography, saw a cartoon image of me being Janet Jackson at the SuperBowl, then became "traumatized." To this I can only reply: what the f#@%?!? I assume this is the image in question: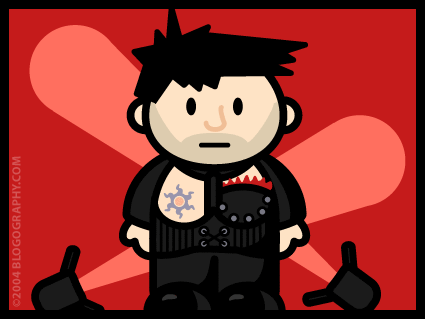 Well, whatever. I certainly don't want to be in the business of "traumatizing" any kids. But then I took a look at the RSACi web site to figure out exactly how I am supposed to rate my site, and am even more dumbfounded. I mean, take a look at what your options are! How am I supposed to choose?
In all honesty, I think this is pretty ridiculous, and have to wonder what the ramifications of adding a rating to your site might be. I mean, if I rate my site as "Mild expletives" and somebody comes along and decides that "crap" isn't "mild" can I be sued? Will Google refuse to index my site if I have ratings in place? Does it really matter anyway? Geez. Maybe I'll just forget about it and instead request that parents monitor their kid's activities on the internet rather than asking me to babysit for them.