It's cold here in Salt Lake City. So cold, that after seeing The Incredibles at The Gateway, I had to go buy a pair of gloves so I could manage to walk back to the hotel without having my fingers freeze off.
As for that movie... it was, well, incredible. Given that this film was a collaboration between the brilliance of Pixar animation (easily surpassing Disney as the leading US animated feature house in every way possible) and Brad Bird (whose miraculous Iron Giant film is an all-time favorite of mine), I expected nothing less...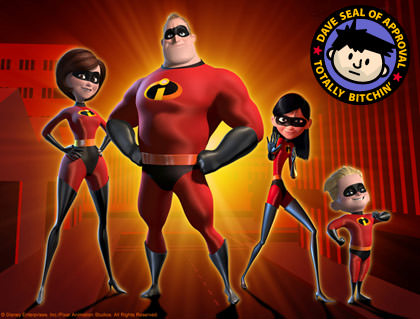 I dare say that it surpasses even Superman and Spider-Man 2 as best super-hero movie of all time (not to mention burying suck-ass snore-fests like X-Men).
It's that good.
Surprisingly, The Incredibles earns it's PG rating by being a pretty intense flick with death and destruction that you don't normally see in "kiddie pics" like this. Don't get me wrong... kids will love the film, especially once the action builds up during the second half, but adults are the ones who will really get a kick out of the more subtle elements strewn throughout the story.
The premise of the movie is pretty slick: continuous lawsuits have forced super-heroes to retire and go into hiding. Mr. Incredible (voiced by Craig T. Nelson) ended up marrying Elasti-Girl (Holly Hunter) and having super-offsprings who hide their powers from society to live as normal people. But Mr. Incredible is not content to be a paper-pushing insurance claims adjustor, and secretly yearns to be a hero again, commiserating with his super-powered buddy Frozone (a scene-stealing Samuel L. Jackson). Eventually, a mysterious offer for super-heroics (on a secret island worthy of a James Bond villain) proves too tempting to resist, and Mr. Incredible quickly ends up over his head. It's up to the rest of the family to come to the rescue, with breathtaking action sequences and humor that's almost too good to be true - much like this promotional poster by comic book legend Mike (Hellboy) Mignola...
Because this is a Pixar production, the visuals are predictably stunning. But that's only the tip of the iceberg. From beginning to end, there's so much going on that it will take several viewings to truly appreciate the effort that went into making this film so "incredible." Just watching the inventive ways that the characters use their super-powers will have comic book fans geeking out all over the theater. How in the heck the upcoming Fantastic Four film can possibly top this is unknown, as the bar has been set mind-bogglingly high.
Do yourself a favor and be sure to see The Incredibles in a theater rather than waiting for the DVD... it's everything that people love about the movies, and begs to be seen on the big screen to be truly appreciated.