What happened the last time you thought yourself to be in danger? I've only been in a couple of truly dangerous situations, but the one that sticks in my mind is being held up at knife-point while walking through a not-so-nice part of San Francisco in 1999. Oddly enough, though it was obviously a dangerous situation, I didn't actually feel my life was at risk. I handed over my wallet, and that was the end of it.
How do you generally react when faced with a dangerous situation? Cautiously. My days of laughing in the face of danger are long since over.
What's something you enjoy doing that has an element of danger to it? I used to have a few things I enjoy like parachuting and scuba diving that could be considered dangerous, but that was a decade ago. Currently I am guessing the most dangerous thing I enjoy is riding my motorcycle... which can be pretty dangerous thanks to the many idiots out on the road.
FQ Gallery: Post a dangerous photo. One of the many helpful signs at Bryce Canyon National Park...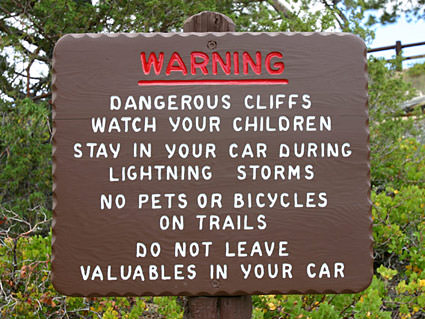 You too can live dangerously at the FridayQ.