A big part of cruising is accepting the fact that your schedule can and will change. Yes, it sucks ass, but that's the way it is and the sooner you accept it, the better your vacation will be. Such is the case with an excursion to the Tulum ruins in Mexico today. It was supposed to leave the ship at 7:00am, but didn't leave until 7:35am. The tour was supposed to last until 2:00pm, but ended up lasting until 3:20pm. We were supposed to have 3 hours in Cozumel after the tour, but then it was changed to just 1 hour, then it was extended to 2-1/2 hours, and finally ended up being a little over 1 hour total. Bleh.
Anyway, after a 45-minute ferry ride to the mainland from Cozumel, we reached Tulum, which is an ancient Mayan city whose ruins still exist today. There's no funky step-pyramid as I had hoped (crap!) but there is a cool sacrificial altar, a bunch of nifty old buildings, and a few really pretty beaches. The weather leaving Cozumel was sublime but, by the time we reached Tulum, a flood of torrential rain was unleashed (apparently we disturned the rain gods or something). Eventually, the skies started to clear and it was pretty sweet (unbeknownst to the rest of my group, I tossed a particularly annoying woman off the cliff as an offering to the sun gods)...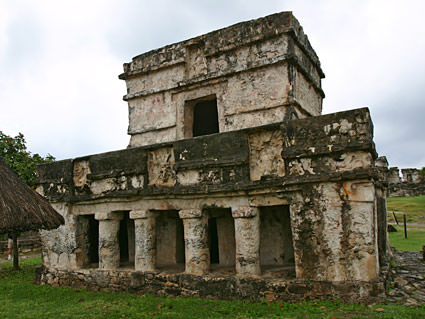 The ferry ride back to the island was balls-nasty (apparently, now we have somehow offended the sea gods). Breaking waves battered our boat something fierce, and a few people ended up blowing chunks (none near me, fortunately!). Surprisingly, the choppy waters had no relation to the weather on dry-land, where the skies were sunny and calm (thank you sun gods!).
The poor fellow who required emergency medical attention yesterday was air-lifted back to the States, and is apparently doing okay (according to a message from our Captain). Kind of nice that nobody has died yet.
Tomorrow we were supposed to be stopping in Grand Cayman. But, since the island is apparently closed, it will be yet another day at sea. Perhaps I'll take up ceramic painting or something?