When it comes to comic books, I've always been more of a "DC guy" than a "Marvel guy." During the late 70' when I got into comics, all the cool books were at DC: Green Lantern, The Flash, Batman, Legion of Super-heroes and the rest. But there was one Marvel book that I read faithfully. One book that was so cosmic in scope that it dwarfed all others. One book that dared to go where others fear to tread. I am talking, of course, about the Fantastic Four.
With the huge successes of other Marvel properties like Spider-Man and X-Men, it was only a matter of time before "The World's Greatest Comics Magazine" was given the big-screen treatment. There was an earlier attempt at an FF movie, but it was reported to be so bad that they were embarrassed to release it. I can only hope that this time they get it right, and manage to come up with something as terrific as the Spidey flicks.
Recently, photos have been released of the characters they've developed for the movie. If you can get past the dorky poses, Mr. Fantastic, The Thing, and The Human Torch don't look too bad. They've got kind of an Alex Ross look to them (although The Thing does look a bit puny in this shot, and Johnny doesn't have blonde hair)...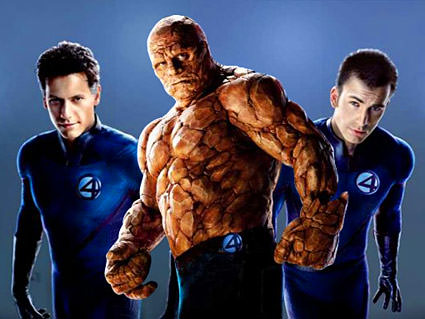 But here's where things get interesting. They've cast the sweet hotness that is Jessica Alba to play The Invisible Woman! Alba, who kicked serious ass in the first season of Dark Angel, is an interesting choice. I can only hope that this means the director is going to make the character be an actual participant in the fights instead of pretty window dressing on the sidelines, because nothing could be better than a hottie like Alba kicking butt. Especially when she looks like this doing it...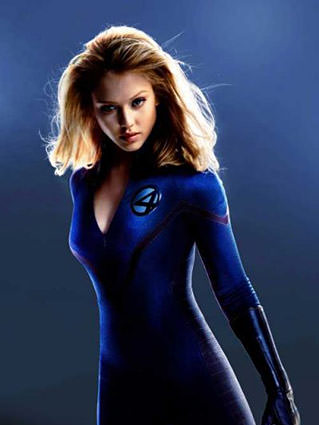 Oh yeah! Halle Berrie's suck-ass Catwoman, eat your heart out (and speaking of Catwoman, why in the heck can't DC make a decent movie from their books? Everything after Superman II has sucked).
Anyway, if the movie pans out, I wonder what it would take for the films to start having fun with the characters like they do in the comics. Have the FF make a guest shot in the next Spider-Man film. Make a few X-Men show up in the Fantastic Four sequel. Have the actors put aside their egos and million-dollar paychecks to just have a bit of fun and give the fans a treat. That's what comic books are all about, and the movies should be too.