Clerks is one of those films that I can watch over and over without ever tiring of seeing it. It's not the best made film, and it's certainly not well-acted, but it's so smartly written that it's easy to forgive just about any other offense. Kevin Smith just has this amazing insight into how people think, and is somehow able to translate that into characters that seem eerily more life-like than real life. The film is a day in the life of two clerks Dante and Randall, as they work their way through life, love, and annoying customers. Sure the premise may sound boring, but it somehow ends up being one of the funniest movies I've ever seen.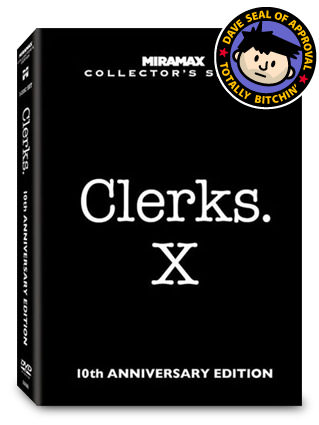 On the occasion of the tenth anniversary of the film's release, Miramax has released the ultimate Clerks 3-DVD collector's set. It includes the theatrical release of the film with original commentary and trivia track, the Sundance Cut with all-new commentary, and a new documentary called The Snowball Effect that talks to just about everybody ever involved with the film. You also get a number of extra features, with two of them alone being worth the price of admission.
The first, Clerks: The Missing Scene fills in the gap as to what exactly happened at the funeral home when Dante and Randall went to Julie Dwyer's funeral. Rather than filming the scene, they decided to animate it in the glorious style of the Clerks: The Animated Series cartoons. I read the story in a comic book that Smith released years ago, but this was magic. This one scene more closely binds Clerks into the Mallrats and Chasing Amy trilogy and fills in some back-story for Dante that enhances the original film.
The second, Flying Car is a sweet short film that Kevin Smith created for an appearance on The Late Show. Until I saw this short, I was hesitant about Smith creating his sequel: Clerks 2: The Passion of the Clerks, but now I can't wait. Something about seeing this brilliant exchange of dialogue that only Dante and Randall can deliver has left me wanting more...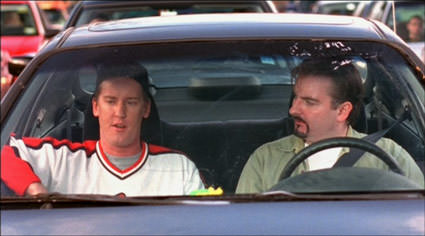 Of the "Jersey Trilogy," Chasing Amy is easily my favorite. But it's hard to ignore the movie that got everything started, and Clerks is a brilliant piece of filmmaking in its own right. If you've never experienced it before (and don't mind a little X-rated dialogue, drug references, and a lot of swearing), this new 10th Anniversary edition is probably the best way outside of a theater to see it. If the impending sequel is half as good, it will still be one of the best movies of 2005.