A while back I posted a rant about lame Internet quizzes in response to an entry at Geekable where Jeff had mentioned "Your blog is a quiz-free zone. You do not care if you are a princess of light, or a flute, or a Toyota Prius. If you wanted to take a test, you'd go back to school."
In response to all of that, Will James left a comment saying "I am in school, and these tests are way more fun." Since I had just had a friend lose their job to outsourcing, this led me to theorize (with sadness) that, "with all our tech jobs being shipped to foreign countries, maybe you really do get more mileage out of an Internet quiz after all?"
Then today I get a message from another friend who just lost their tech job to outsourcing. I used to think that so long as Windows was the dominate OS, there would always be jobs in tech support to deal with all the bugs, crashes, and confusion that goes along with it. Well, my friend's job was in tech support. Those Internet quizzes are looking better all the time, so here's my contribution (I'll make up for lost time by doing the Top 5 Most Popular at Quizilla)...
What movie Do you Belong in?(many different outcomes!)
What is Your Color? (girls only... great anime pics)
How Old is Your Inner Child?
What Sign of Affection Are You?
Which of the Greek Gods Are You?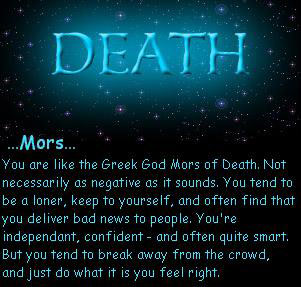 Having my "Sign of Affection" being "Holding Hands" nearly caused me to throw myself off a building... but I kind of redeemed myself by having my "Greek God" be "Death." So there, is that lame enough for everybody?
Oh, just an FYI... the actual Greek god of death is Thanatos. The Romans changed Thanatos to Mors when they adopted the gods as their own. As an aside, Thanatos should not be confused with Hades, who is not Death... he's lord of the underworld. Thanatos should also not be confused with Thanos, which is the Marvel Comics villain who is obsessed with Death. Furthermore, the Roman god of death Mors should not be confused with the Roman god of war, who is Mars (stolen from the greek god of war Ares). I'm a big mythology buff, and errors like this bug the crap out of me!