This morning as daylight was breaking, I got up and went out to the balcony so I could see how much more of my world is on fire. Luckily, the nearby hills seem to be unscathed, but smoke is still pretty thick in the air. I guess if I were to try and find a bright side to all of this, we do get really pretty sunrises and sunsets out of the deal. No photo can capture the deep red orb that has become our sun here, but it's fun to go ahead and try...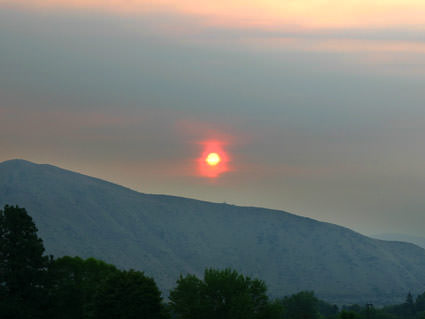 Hey look! While I was gone, Oscar started to get some new branches! I really need to set up a webcam so I don't miss any more critical developments as he grows up...
And, from the "yet another meme bites the dust" file: Theme Thursday has sent out an e-mail telling participants that they "haven't been having much fun with Theme Thursday lately" and have decided to "take a break." That doesn't sound bad until you read "If you'd like updates on the status of things and whether or not Theme Thursday will begin again in the future, feel free to leave your e-mail address on the list." Oog. That's not very encouraging is it? Theme Thursday is one of those memes I really enjoy, and I'm kind of bummed about this.
Today I'm off to Seattle so I can attend one of my best friend's wedding. Fortunately, the happy couple are of the opposite sex so they don't have to worry about the state annulling their marriage six months from now.
Or do they? The way things are headed, I have to wonder.