By far the most inspiring Olympic event I've witnessed so far was the Women's Marathon Run. Averaging a 5 minutes 35 second mile in up to 100-degree heat, Mizuki Noguchi of Japan brought home the gold after a grueling 26 miles. In addition to the difficult conditions, she also had the added pressure of following up the previous Japanese win from Sydney 2000. You kind of get a sense that near the end there, the poor gal was running on empty... but the minute she entered the stadium for that final lap and realized she was going to get the gold and started waving to the crowd... well, moments like that are what makes the Olympics worth watching (photo taken from Athens2004.com, which will probably merit me all kinds of nasty threats from the IOC because they just don't appreciate free promotion for their site!)...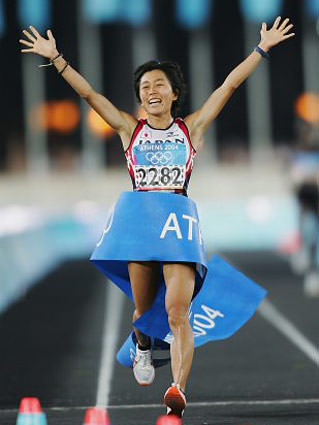 The drama escalated earlier in the race as British world champion Paula Radcliffe dropped out in tears. Whether it was the heat or emotional pressure did her in, it's hard to tell. In any event, it was a heart-wrenching moment that all of Great Britain must have felt.
Another inspiring moment was American Deena Kastor as she worked her way from 18th place, picking off the competition one by one to win the bronze. Where she found it within herself to keep progressing like that I have no idea. When they talk about triumph of the human spirit, stuff like this must be exactly what they mean.
All I know is that I could barely run a mile, let alone 26, in 100-degree heat (well, okay, I would have a hard time running a mile in sublime temperatures with a light breeze... I'm kind of a weenie that way).