I have mixed feelings about video messaging. On one hand, it's kind of cool to be able to convey the emotion and nuances of speech that only video (or face-to-face conversation) can provide. On the other hand, people can see you. Some people take advantage of that fact in ways that only demented minds can conceive. And by "people," I mean "Meagan." When you get an invitation to video chat from Meagan, you know full-well that she's going to be recording your every move to add you to her collection of embarrassing photos, but somehow forget once you start talking to her...
Meagan: Whatcha doin'?
Dave: Uhhh... workin', what are you doing?
Meagan: Nuthin'.
Dave: Well that must be sweet. Did you AIM me just so you could rub it in?
Meagan: No. I'm bored.
Dave: You could always come up here and fight fires.
Meagan: I'm not that brave.
Dave: Gee, I'm fresh out of suggestions then.
Meagan: You're looking particularly clueless today.
Dave: What?!?
Meagan: You know. Clueless...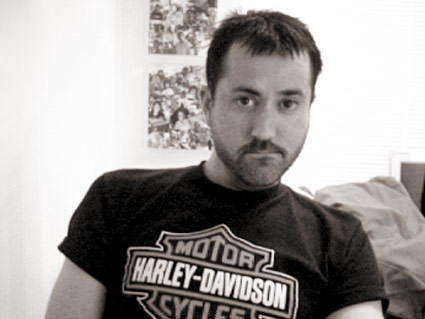 Dave: Oh, that's normal for me.
Meagan: Well I find it charming. It's not good for a man to think too much.
Dave: Then surely there are more qualified guys you could be talking to?
Meagan: None come immediately to mind, no.
Dave: You're so sweet to me. Say goodbye Meagan.
Meagan: Goodbye Meagan!
Gee, after a conversation like that, I really do feel clueless.