Telly: One of my favorite things about Britain is their wonderful television programs. I'm completely addicted to shows like Red Dwarf, Coupling, Monarch of the Glen, Nevermind the Buzzcocks, etc. Last night I was watching a documentary about how the police deal with growing alcohol-related problems in club districts. It was absolutely fascinating, made even more intriguing by the fact that it was completely uncensored. Every curse word (and there were a lot of them being screamed by belligerent drunks) was fully audible, with no "bleeping" whatsoever. Afterwards, I was treated to such programs as "World Sex Records" and "When Sex Goes Wrong." Both of which were amusing anecdotes masquerading as soft-core porn. Yet, back in the States, Janet flashes a titty, and the world is ending? What a bunch of uptight asses we Americans are.
Help: On my morning pilgrimage to Pret for an Egg & Fire Roasted Tomato breakfast sandwich, I walked by an armored bank van that was sounding an alarm while a recorded message from a very proper English lady was calmly speaking: "Help. This car is under attack. Please call the police. -- Help. This car is under attack. Please call the police." Nobody paid a bit of attention to it, which makes me wonder if the van really were under attack, would the security couriers inside actually expect any assistance to be forthcoming? Nobody pays attention to a calm voice... they need to hire some frantic woman screaming "AAAAHHH! CALL THE COPPERS YOU BLOODY IDIOTS... WE'RE BEING ATTACKED!!! AAAAAAAHHHH!!! HELP US FOR GOD'S SAKE!!!! And instead of an alarm, why not use recorded gunshots? That would get people's attention.
Addiction: On my way back to Pret for a second Egg & Fire Roasted Tomato breakfast sandwich, I accepted the fact that I have a serious problem. But honestly, until you've had one of these things, you simply have absolutely no idea. It's probably best that they stop serving them after breakfast or else I would probably have another two for lunch. Pret bastards... I already had my hands full with my Cheesy Fiesta Potato addiction back home.
Gallery: Spent most of my day today wandering through London's fine art galleries (one of the best reasons to come to the city really). My favorite is always the Turner Collection at the Tate Britain, and I never tire of viewing it. His beautiful works span the gamut from historic to surreal...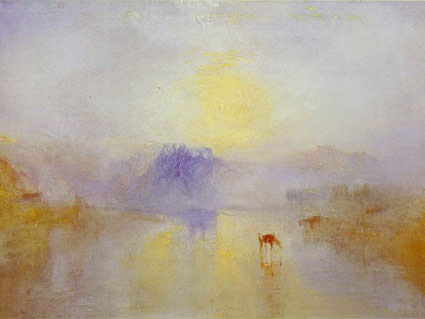 Map: Every single time I come to London, I forget to bring along my pocket city map, and end up purchasing a new one. I've got quite a collection of them brewing back home. It's not like I need the map to find common places around town, but every once in a while I end up wandering too far and like to know that I have some help handy.