I am not a big video game fan... I never really have been because I just don't have the time to play them. But every once in a while I see a game that I want quite badly to play. For almost a year now, that game has been Star Wars: Knights of the Old Republic. Problem is, in order to play it you have to either own a Windows PC or an XboX... both of which are spawns of the great Microsoft Evil Empire. Sure a Macintosh version has been promised for a while now, but it's going to cost $60 and who knows when it's going to be released or if it will even be any good.
So a quandary develops. I would sooner gouge out my liver with a rusty spoon before I ever purchase a Windows PC, so I guess the XboX would be the lesser of two evils.
But it's still Microsoft, a company which I loathe supporting... even with the $115 it costs to get an XboX (which is less than the cost of buying a copy of Windows isn't it?).
Unfortunately, that doesn't change the fact that I want to run around with a light saber like Samuel L. Jackson and take care of a little business...
Or hang out with Wookies...
Or open up a can of Jedi whoop-ass...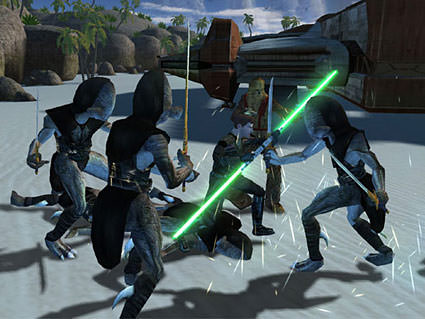 I mean, come on!! How sweet is that?!? This game looks better than the moronic movies George Lucas has been crapping out lately. And, unlike watching the films, if I run across Jar Jar Binks I can whip out my light saber and go all Darth Vader on his lame ass.
Arrrgh! I'm probably going to end up buying an XboX now that the price has dropped so low. How will I ever be able to live with myself?