Taco Bell is one of those places that you should never eat at, but inevitably do because they have pretty decent grub for a fast food joint and, even more importantly, it's cheap.
But I'm getting ahead of myself.
Today I had to run to Wenatchee so that I could purchase an International Driving Permit for an upcoming trip...
The relevant bit here is not that I look like a terrorist in my photo. The relevant bit is that I had to have the photo taken in the first place. You see, I was planning on spending $10 for the permit... that's how much I was told it cost. But, because I had to have my photo taken, that added another $6.50 to the bill. The $20 I had allocated for the permit and my lunch was now almost gone.
So, I now have just $3.50 for lunch... where do I go?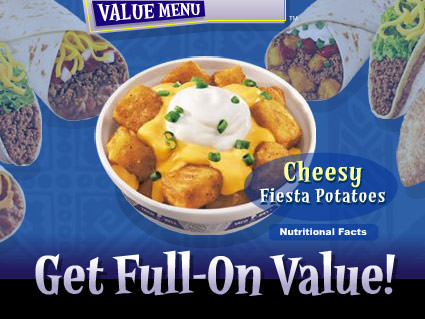 Yes, Taco Bell. Thanks for keeping up. Anyway, I am now in love with Cheesy Fiesta Potatoes. They taste like cheese and sour cream covered bits of heaven on a spork. The problem is that anything tasting this good is bound to be horrendously bad for your health... over half the calories come from fat and each bowl contains 30% of the recommended daily intake of saturated fat. Eating enough of these suckers could kill you.
But what a way to go.