A little over three hours ago I posted a "Sunday Rant" because I woke up in a not-so-great mood. Since then I have gotten out of bed, done a half our of yoga and meditation, got cleaned up, went for a ride in the rain (of course it's raining... I washed my motorcycle yesterday!), stopped at the hardware store for some brackets to install some shelving, and now I am at work for a while. I fire up my Macintosh (it's not just a computer, it's a Mac!) so I can get started, and this is waiting for me in my in-box:
"I AM SICK OF YOU BADMOUTHING THE ATKINS DIET IN YOUR JOURNAL!!!! LOW CARB DIETS ARE SAVING MILLIONS OF PEOPLE FROM OBEESITY AND IF YOU HAD A WEIGHT PROBLEM YOU'D BE ON YOUR KNEES THANKING GOD FOR DR. ATKINS BECAUSE HIS DIET WORKS!!!!!!! THE REASON RESTAURANTS SELL LOW CARB FOODS IS BECAUSE PEOPLE KNOW IT'S THE BEST WAY TO LOSE WEIGHT!!!! IT'S BEEN PROVEN BY MILLIONS OF PEOPLE SO SHUTUP!!!!!!!!!!!!!"
Now, normally, I'd hit the "delete" button before I was six words into the e-mail because I just don't care enough to read this crap. But I'm still in a bit of a bad mood so, what the heck. I am going to do something I never do and waste valuable web storage space by actually replying in my blog...
ONE. Do you realize what a complete moron you look like when you don't have the sense to turn off the caps-lock key? Though I must admit I am a bit surprised that you only had one misspelling in your e-mail, so I guess that's something. Most people who write screeching e-mails like this don't bother to even attempt spelling the words properly.
TWO. For the last time... This is my blog and I will say whatever I want in it. If you don't like what you find here, then please stop reading it!
THREE. The reason restaurants sell low-carb foods is not because it's the best way to lose weight, it's because people are buying it. If a new diet of cougar urine became a hot fad for weight loss, McDonalds would put "Cougar Urine McFrosties" on their menu simply because people would buy it... that's how they make their money.
FOUR. Yes, millions of people are losing weight on the Atkins Diet. But at what cost? The diet is so new that there have been no studies done to see what the long-term affects might be. A diet that's loaded with fatty foods like cheese and chemical-altered, steroid-filled foods like meat just can't be good for you in the long run. I love cheese, but being told to eat it instead of an apple so you can lose weight is insane.
FIVE. While it's true I am lucky enough not to have a weight problem, there is no way I would ever be "THANKING GOD FOR DR. ATKINS" if I did. I'd have to give up being a vegetarian since fruits and vegetables are loaded with carbs, and I wouldn't do that (they are the healthiest foods you can eat!). Millions of people may be losing weight on the Atkins Diet, but billions have found out the hard way that diets don't work! Diets are a temporary solution to a long-term problem that requires a lifestyle change, not a bogus "miracle cure."
Now, for anybody who might write me yet another moronic diatribe about being a hypocrite for passing judgment on a solution to a problem I don't have... don't waste the effort because I just don't care to hear it. I am not at all against people trying to lose weight, I just don't want to be faced with a ridiculous "low-carb" lifestyle everywhere I go because it's a popular fad. If there has to be a fad for weight loss, why can't it be one that is healthy and makes sense? Why can't we bring back the one person who had it all figured out...
Where is Susan Powter?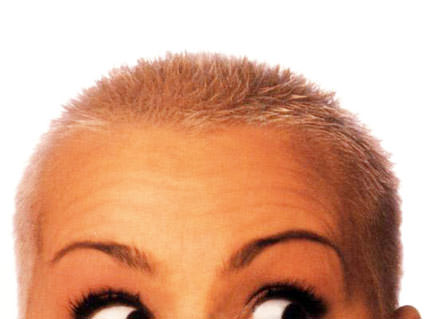 Yes, she's the same hyperactive woman with blonde spikey hair that had those annoying "STOP THE INSANITY" infomercials years ago. Yes, she's the same man-hating freak who holds the entire male gender responsible for everything wrong in the world. Yes, yes, and yes... she's a loon, I know. But if it were her book that were all the rage right now, I wouldn't have to be bombarded with "net carbs" and "Atkins-friendly" crap wherever I go. Instead it would be all "low fat" and "vegetarian-friendly" crap! Now, that's something I wouldn't mind seeing.