If there was a single redeeming quality to Microsoft, it was that they manage to churn out some pretty good Macintosh software. Yes, they've had some problems along the way (MS Word for Mac version 6 was one of the single worst software applications ever) but, for the most part, MS Office for the Macintosh was always a step above anything that came out for Windows. Sure MS Office apps are bloated with unneeded features that slow down the programs on older machines, but I look on the bright side that at least I don't have to use Windows in order to run them.
Microsoft recently released Office:mac 2004 which updates their excellent Office:mac X suite. Fool that I am, I assumed it would be an improvement.
I was wrong. The latest version is such a huge step backwards, that I've just uninstalled it.
I'm left wondering if anybody at Microsoft bothered to test this product before release. Furthermore, I am wondering why they bothered to release it at all (the new feature set is hardly compelling or useful). In the two days I attempted to use it, I ran into numerous problems. My favorite is the fact that the installer allows you to skip installation of "Visual Basic for Applications," yet the programs complain constantly if it's not installed... if it's required, why allow us to skip installing it? There's more, of course, but I'm trying my best to forget about Office:mac 2004. I can only hope that they work up some patches so that one day it's actually useable.
UPDATE: Okay, there is something by Microsoft that I think is really cool... their TerraServer site. It's a mapping tool that lets you zoom in on any area of the United States to a ridiculous degree. Some urban areas even zoom in color, and you can get so close that people become visible! Here's a few shots as I descend on the Seattle Center and the Space Needle...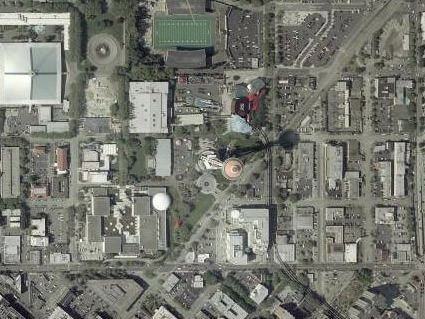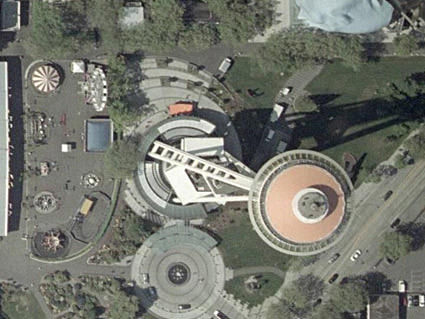 Originally created in 1998 as a showcase for Microsoft SQL Server, TerraServer creates map views based on U.S. Geological Surveys satellite data, and is a great way to kill some time.