I've decided to purchase an ice cream maker. It's not because I like to eat a lot of ice cream... dairy and me don't get along as well as we used to... but every once in a while I have a flashback to eating stracciatella gelato in Rome and have a very hard time letting go. I've tried buying the "gelato" they sell here in the States, but it is not the same. I figure the only way I'm going to fulfill my frozen longings is to create my own stracciatella recipe and keep working until I get it right. I had tried to do this a few years ago, but my crappy $60 ice cream maker wouldn't cooperate.
So this time I am buying a real Italian gelato machine that has a built-in freezer compressor. It's obscene how much money you can end up spending on one of these things (there are models costing thousands of dollars), but eventually I found a highly recommended machine that was under $200. It's called the "Lello Gelato Junior."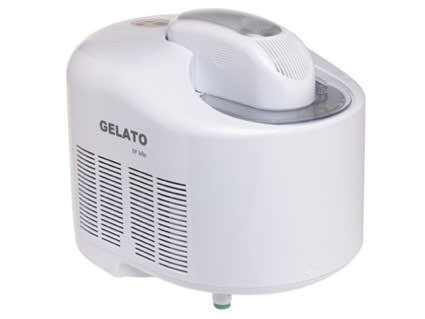 Can you believe that little machine weighs 40 pounds? Can you believe that I am probably going to end up weighing 400 pounds by the time I perfect my stracciatella gelato recipe? Wish me luck...