Alrighty then... pop quiz hot shot... You are in New York City, home to some of the greatest restaurants the world has ever known. You are vegetarian, and know that some of the most creative veggie cuisine on earth can be found within a 10-block radius of your hotel. You are hungry for dinner, and are here for one night only... the world is waiting outside your door... where do you go to eat?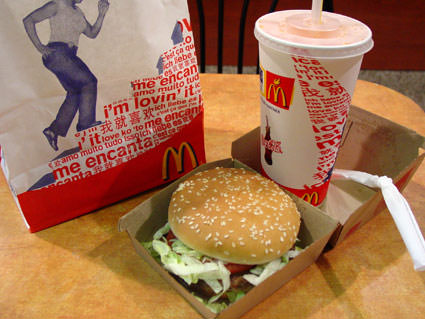 Well, if you are me, you go to McDonalds at Times Square! The only place in the world (that I know of anyway) where you can get the amazing McVeggie Deluxe Burger!! Delicious! I had two of them. If I was staying another day, I'd eat two more for dinner tomorrow (after probably having had another for lunch). Why in the hell McDonalds doesn't roll these out to the rest of the chain I will never know. It's not the best veggie burger in the world, but it tastes great and would be a welcome option for fast-food seeking vegetarians.
As I was leaving, I see this on the front of the restaurant...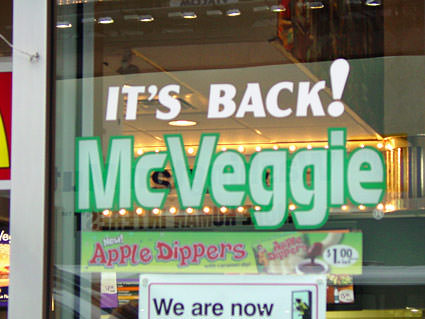 AAAAAAAAHHHHHH! What do you mean "it's back?!?" Where did it go? Why would you ever remove it? All I can say is that it is a darn good thing you brought it back for my visit or I probably would have freaked out... badly.
Of course, no trip to New York is complete for me unless I drop by and see what new pins they've got at the Hard Rock...
And, naturally, there's always a stop at Pick-A-Bagel, my favorite New York City bagel shop (which I blogged about previously)...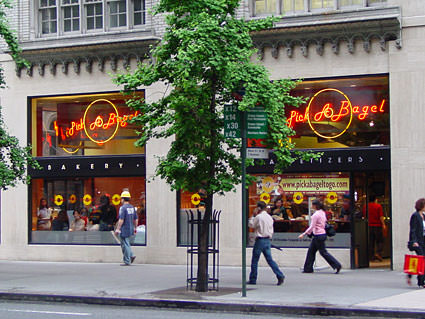 Boy don't I wish I had a couple more days here. One night in NYC is definitely not enough!