Tele-marketers suck ass. That's why I was thrilled that a National Do Not Call Registry was initiated so that people I don't know won't call at all times of the day and night wanting me to buy their crap. Since I haven't received a tele-marketer call in months, I can only guess that it's working. Problem solved, right? WRONG! Apparently, if you are a political organization, charity, or are giving a survey, you can still call and bug the shit out of people any time you want. Unfortunately, I found this out the hard way on the worst possible night.
As anybody who has been reading this blog knows, I have not been able to sleep in weeks. The problem is so serious that I am considering seeing a doctor to find out what's wrong with me. Well, tonight I was starting to feel sick from lack of sleep... everything seems fuzzy and I am unable to concentrate. Out of desperation, I took a handful of sleeping pills around 8:00 and went to bed at 9:00 with the hope of getting even a few hours of uninterrupted rest.
Twenty minutes later, just as I am drifting into dreamland and thinking I may actually get some sleep tonight, the phone rings. I snap awake in a panic wondering if somebody I know has been put in the hospital or has died or something equally horrible has happened. I run to the phone with a sense of dread overwhelming me, only to find out that it's a f#@%ing survey. That's right, my first shot at sleep IN WEEKS has completely turned to shit because somebody wants me to take some kind of survey...
Dave: Hello?
Survey Asshole: I'm with a National organization gathering research...
Dave: WHAT? It's past 9:00 at night... I was IN BED!!
Survey Asshole: Our organization is one of the largest...
Dave: I DON'T CARE! It's past 9:00, I was SLEEPING, and am not interested. Don't call me again! Put me on your do-not call list and never bother me again!
Survey Asshole: WE DON'T HAVE ONE!!! We are a national organization gathering research for children with asthma and need...
Dave: Whatever.
It's at this point I wish I had an old-fashioned phone that I could slam down, but all I can do is press the "OFF" button on my handset and throw the phone on the table. That was an hour ago. Any chance I had of getting any sleep tonight has been effectively destroyed. For the next 8 hours, I'll sit in front of the television like a zombie as my body fights the massive amount of sleeping pills I've taken, refusing to sleep. What in the heck is wrong with me? Googling "sleep disorders" gives me a lot of possibilities, but no answers.
Right now I am so burning mad that I want to disconnect my phone. But what if there's an emergency and somebody needs me? I guess that's not an option after all. This sucks. I don't give a crap what organization you work for, or how worthy your cause is... NOBODY SHOULD BE ALLOWED TO BOTHER RANDOM PEOPLE OVER THE PHONE!! EVER! While I have every sympathy for kids with asthma (even though I have no kids, nor do I know any that have asthma), waking people up at night is just wrong.
I think my Tivo has a few episodes of Keen Eddie in the queue, but I may not have the brain power for a show like that. I wonder what's playing on Cartoon Network?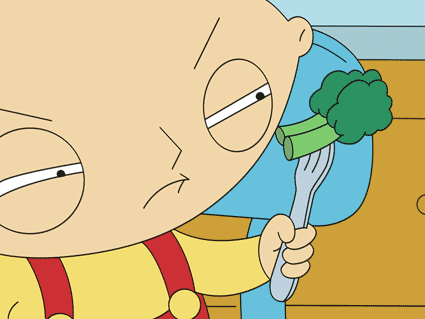 SCORE! In a half-hour, there's an episode of Family Guy on. I wonder what nefarious plot baby Stewie will come up with to kill Lois this time?