I've never really had reason to fear the dentist. Whenever people would talk about how much they hate going to the dentist, I would just smile politely and puzzle over what was so terrible about it. After all, for my entire life, I've never had any dental problems... no cavities... no root canals... nothing interesting at all. I always took care of my teeth, so a trip to the dentist was like a vacation with minty-freshness at the end.
Until recently, that is.
Now everything that could go wrong, has gone wrong. This morning I had abnormally deep grooves in my back teeth routed out and re-filled with a bizarre tooth-like substance. All I have to show for it is a shiny new green toothbrush, dental floss, and an aching jaw.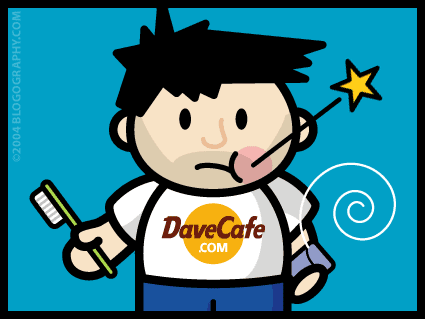 Now I know exactly what people have been fearing about the dentist all along. Huge needles, horrible tastes in my mouth, and kick-ass grinding and suction noises. It goes something like this...
It is not a pleasant experience. Though I imagine it could have been worse...
Dental Assistant Lady: Would you like gas?
Dave: GAS?!?
Dental Assistant Lady: Yes, it will help you relax.
What Dave is thinking: AAAACK! YES, GIVE ME THE f#@%ING GAS!! GIVE IT TO ME NOW BEFORE I USE YOUR HEAD LIKE A BATTERING RAM TO BREAK THROUGH THE WINDOW AND ESCAPE THIS TORTURE CHAMBER!!! GIVE ME! GIVE ME! GIVE MEEEEE!
What Dave says: Gas sound great, thanks.
Since I didn't end up killing anybody, I guess that gas stuff must really work. If you have to be tortured by a dentist, I highly recommend it.