Well, my motorcycle is all fixed over in Seattle... turns out it wasn't a major leak, but instead some sort of oil switch that gave out. My big plan was to hitch a ride over to the coast with a friend tomorrow morning and ride back in the afternoon. Problem is, the weather is not being very cooperative: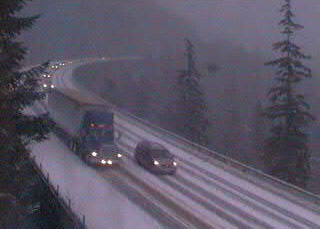 It's supposed to snow all night on the mountain passes, which means that even if the weather clears up, all the sand and gravel that was dumped on the road over the evening will make the roads a mess. I don't want my first distance ride to end with an accident, so I've decided to pay a company $65 to haul it over next week sometime. Oh well. Better safe than very,
very
sorry.
That was the bad news. Here's the good news... Martha Stewart has been found GUILTY on four counts related to her insider trading scandal. This means that unless she wins an appeal, she will be facing some serious jail time. It's a good thing!
Here's hoping that her television show, magazine, home furnishing line, and the rest of her boring, sanitized empire goes down the toilet with her. Do I loathe Martha Stewart because she is a "money-grubbing bitch" (which is what a male-dominated business world labels any woman who dares to be successful)? No, I loathe Martha Stewart because she is a raging psycho who takes credit for the work of her staff and passes it off as a lifestyle that is all but unobtainable to those that worship her (well, unless you also have unlimited funds and a small army of people working their asses off to ensure your life is fabulous). I can only hope that Martha's fans will eventually realize that her beautiful and perfect life was nothing but an elaborate façade whose real purpose was not to enrich the lives of others, but make her very wealthy. Life is better when everything in it doesn't have a price tag attached.