The weather is suh-weet today, so it looks like a ride on my motorcycle is definitely in order (after I spend an hour or two cleaning it up). In the meanwhile, a friend had asked why I haven't blogged my "Visited States and Countries" like everybody else in blog-space. The reason is pretty simple... I didn't think the map was a good color for my site. Seriously. But, in the interest of conformity, I decided to make my own map just in case there are people who can't sleep at night because they are wondering what States I've been to. Well here you go...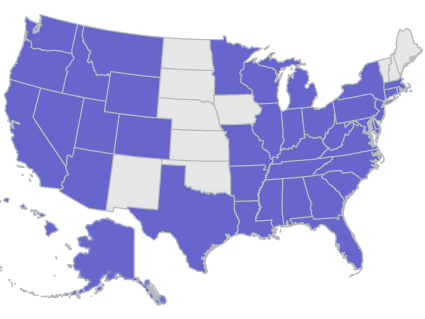 I absolutely plan on visiting Maine, New Hampshire, and Vermont one day... no question about it. Ditto for Alaska and New Mexico (Taos!). But that run of states down the middle? I just don't know. Mount Rushmore and the Crazy Horse Monument are in South Dakota, but everything else? Who knows, maybe one day I'll get really bored and just drive through all of them in a single run just to say I've been there (heck, MapQuest shows that if I fly into Bismarck, then rent a car and drive through all the central Sates I'm missing to Oklahoma City, it takes a mere 16 hours and 34 minutes (anybody want to share that drive with me?).
The world map for visited countries is pretty anemic, which is scary considering I've seen more of it than most people. Let's just make a list, shall we? USA, Canada, Mexico, Japan, South Korea, Thailand, Singapore, Hong Kong (China?), Indonesia, Malaysia, United Kingdom (England, Wales, Scotland, Northern Ireland), Ireland, Germany, Denmark, The Netherlands, Italy, Vatican City, France, Belgium, Sweden, and Iceland.
When it comes down to it, there's really no place in the world I don't want to see... I want it all (Spain, Portugal, Greece, Australia, New Zealand, and Mainland China are first in line). I can only hope that I'll have the opportunity to experience a lot more of it before I go.
UPDATE: I now maintain a dedicated page to all the places I've visited. You can get to it by clicking here.