Last night I needed a distraction from my brand-new camera having to be sent in for repair (which FedEx delivered to the repair facility at 9:18am this morning) so I decided to clean out my storage closet. After only 10 minutes I found my old Atari ST computer, which I still hold on to so that I can play the best game ever: Dungeon Master! All cleaning had to stop so that I could set up the computer. Much to my horror, I found out that I can't seem to get it to boot up. That's a real shame, because running through Dungeon Master again would be too cool. Maybe it's time to finally toss out the old Atari?
Oh well, it was easy to set the computer aside so I could watch the ultimate television distraction: American Chopper (congratulations Vinnie!). The only problem is that watching the show just makes me want to ride my motorcycle even more. This weekend I had to run to the neighboring "big city" and saw three motorcycles out. Then I look outside my window this morning and see that the snow is melting bit by bit and the sun is shining in a clear-blue sky. My hopes are up that this could be the week I take my ride out of storage! But then I go out to my car and see this: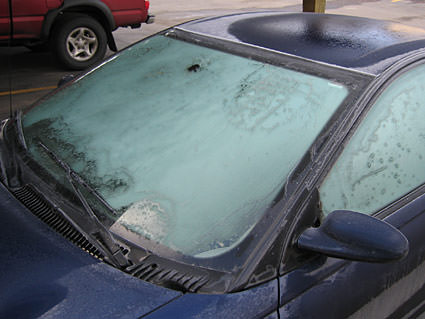 Frost everywhere! And then on the way to work I notice that there are patches of ice and a lot of gravel still on the roads. It looks like there will be no motorcycle for me this week after all. As much as I am dying to ride, the last thing I would want would be to dump my bike on the first run I take this year!