I rarely have the time to just sit down and watch television and, on those rare occasions that I do, I usually end up watching only those shows that I have my Tivo record. But today was a little different. I had so much work to catch up on that I didn't want to risk being distracted by something "good" so I just parked the television on VH1 and left it there.
My plans for non-distracting television were dashed when the Bands Reunited: A Flock of Seagulls episode came on. I already had it recorded on my Tivo DVR, but became instantly captivated and couldn't help but watch. Something about seeing people who have long since put their mega-star life behind them and moved on... only to be mercilessly ambushed with the prospect of a reunion with their old band mates... it's just compelling television.
Since I am a huge fan of AFOS... this episode was fantastic for numerous reasons (not the least of which is hearing them play again!). The stories behind the rise and fall of the group is just the icing on the cake.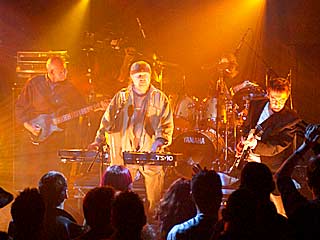 But then VH1 continued on with more Bands Reunited episodes, including Frankie Goes to Hollywood and Klymaxx... each with loads of drama involved in getting the bands back together again. This is a really cool series that will captivate you, even if you don't like the bands they feature.
Now if only VH1 would provide an RSS feed for the companion blog to their other amazing show Best Week Ever, I would be really happy.