My Canon EOS Digital Rebel camera finally arrived today after Fed-Ex missed two previous delivery commitments. While it was worth the wait, it is very different than the string of smaller (and much lighter) digital cameras I've been using over the past 5 years. I hold up my Canon PowerShot 400 next to the new one and find it's easily 8 to 10 times bigger!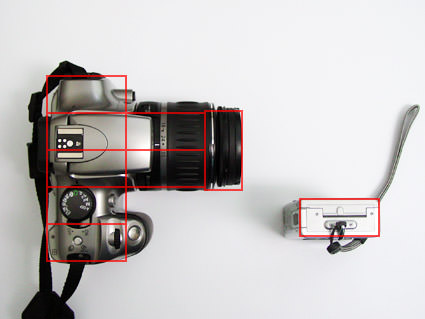 This worries me a bit, as I had forgotten what a bummer it is to pack around a neck-anchor during my travels. But, then again, after only an hour of playing around with the Digital Rebel I'm remembering just how much I gave up when I switched away from film. This baby is sweet! It shoots beautifully in just about any condition I've thrown at it (including low light), and I'm amazed at some of the shots I'm getting... exactly the type of stuff I used to shoot for film, but with all the convenience of digital.
So now I'm psyched to get out and take some photos. And I already want to go out and buy $1000 worth of additional lenses (which only seems fair considering how much I will save in film and developing costs).