In coming back from celebrating the New Year with friends in Seattle, I have to travel back over Stevens Pass which just happens to be in the middle of a winter storm warning...

Since I've been driving in heavy snows and icy roads for the past twenty years and make sure that my car has the best snow tires money can buy, I don't worry much about adverse weather. What I DO worry about are other idiots out on the road who don't know what the hell they are doing.
This time was really fun. Cars run into the ditch... pile-ups on the roadway... a cornucopia of idiots who just don't know how to drive in the snow and should be staying at home. My favorite was a moron in a light-duty, rear-wheel-drive pickup with no weight in the back who stopped in the middle of the highway on a hill (blocking an entire lane of traffic) so he could install chains. Dumb-asses everywhere you look!
The good news was that there was a pileup directly behind me (when yet another idiot thought he would do a U-turn in the middle of the highway, but instead got stuck and blocked traffic in both directions)... giving me the entire road to myself! Sweet!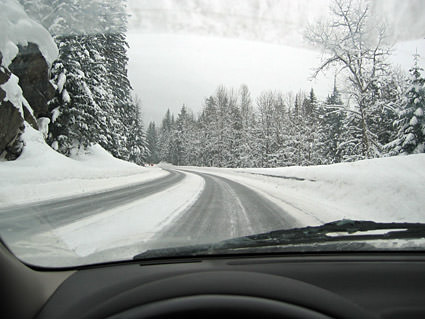 Sure it's pretty, but you can't ride a motorcycle in this crap.