Spam blows. Even with a spam filtering service and the anti-spam capabilities of Apple's Mail program, I am regularly getting 30 to 40 pieces of spam hitting my In-Box every day (not to mention the hundreds of pieces every day that are filtered out for me).
And now that we have anti-spam legislation in place, I honestly feel that the spam problem will get worse since there are so many loopholes in the law for spammers to hide behind. Now they can send out even more spam because they can claim that they are "in accordance with anti-spam laws." A big "thanks for nothing" to stupid politicians for not solving the problem, but instead making it a big PR stunt for re-election (can't blame them there... everybody hates spam, so it's a win-win topic to stand behind).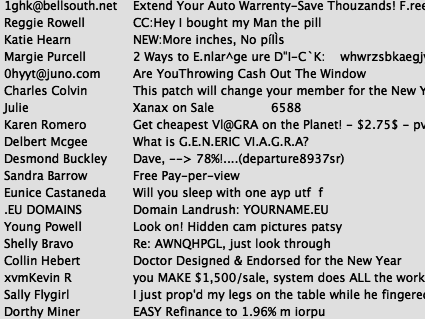 With every new day, I am starting to agree with those people who think that ISPs should have to pay for every piece of e-mail they process. They, in turn, can then pass this minimal charge to their customers. Just a simple charge of 2 cents would mean nothing to the average user... 300 e-mails a month would cost just $6.00, so big deal. But to a spammer who sends out millions of e-mails each day? Well, it's not so profitable to spam anymore is it?
The logistics of charging for e-mail is not a simple matter... mail servers would have to start keeping track of e-mails sent for billing, and would also have to refuse e-mails without "postage" on them. And then there's the questions: What about exchanging e-mail with foreign countries that don't charge for e-mail? Should .org non-profits get to send e-mail for free? During the transition, what happens to e-mail without postage? Do we still allow "postage-free" e-mail and, if we do, could it be marked in some way so that users have the option of refusing it?
I haven't a clue, and there are hundreds of other questions that would need to be answered. Given the number of e-mails sent each day, one thing I am sure of is that a charge-per-e-mail system would pay for itself in no time, and any excess funds collected could be put into programs that expand broadband options into rural communities or something.
All I know is that I don't want spam anymore, and I would gladly start paying if it meant an end to it all.