In the past, I've blogged about what a cool and amazing thing that the iTunes Music Store is. But now that the magic is wearing off, shopping for music there is just pissing me off. After buying a few iTunes by The Cure off their "Greatest Hits" collection, and really getting hooked, I decided to dig through all my old CDs (in storage) and rip their hallmark album, Disintegration, to my iPod for my upcoming month of travel. Well, after finally finding it, I notice that there is a huge gouge on the back of the CD that not even toothpaste will fix, rendering the thing unplayable.
Oh well, I can just buy it again from the iTunes Music Store, right?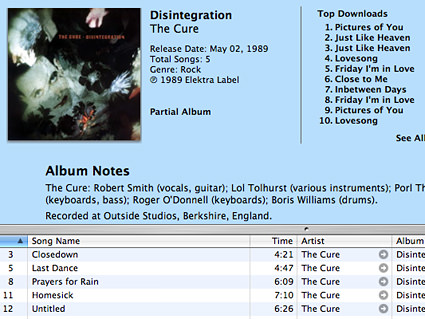 Uhhh... wrong. I get the dreaded "partial album" listing yet again. WTF? What could possibly be the logic of not offering the entire album? I can't imagine that this is the doing of The Cure frontman Robert Smith, who constructs his albums like poetry. Hacking Disintegration to pieces like this is tantamount to destroying the mood of the work as a whole, and what artist wants that? So it's got to be the record company. For some insane reason they don't want to sell you the entire album online. But why? Did they whore out the publication rights to line their pockets or something? Is this supposed to encourage me to run out and buy the CD instead?
Well congratulations to whatever dumbass record exec made this decision... I'm just going to download one of the billion copies floating around the internet for FREE!! What a load of crap. The sooner this antiquated music industry we have in place falls apart, and record companies die a horrible death, the better. What's the best way to encourage music theft? Don't give people a way to buy it online.