As some of you might already know, my friend Meagan created her own "photo booth" using an iMac, a video camera, and a custom AppleScript, which we've dubbed Meagan's Video Embarrassment Booth. It is from this nifty invention that I have the little photos of me that litter this blog.
Well, Meagan is at it again, but this time she's being even more crafty in obtaining photos of her subjects (victims?). This morning I fired up an iChat to ask her about an odd problem I was having with Adobe Illustrator, and about 20 minutes later, THIS arrived in my e-mail...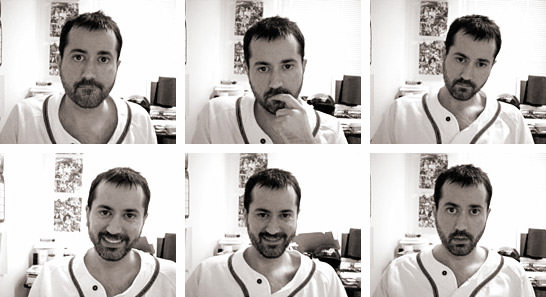 Since the only way I would willingly have my photo taken in her booth was to be too drunk to care, I always thought I had a good excuse as to why my photos looked so goofy. But I was perfectly sober when the above iChat was going on, so I suppose now I have no excuse at all. Thanks a lot Meagan!