Earlier today I was heading to a business dinner in Harrisburg, Pennsylvania and noticed that right next door to the restaurant was an Indian Motorcycle dealership. One of the guys at dinner rides, so he said we should go take a look. As we head over, he drops the bomb and tells me that he just heard on the radio that Indian had closed up shop (again) and was looking into bankruptcy.
So here I am looking at these beautiful machines just sick at the thought that these are probably the last motorcycles the dealership is likely to get (an excellent opportunity to jack up the price!). Indian has been around longer than Harley-Davidson, and it seems tragic that as Harley celebrates their 100 year anniversary that a pretty nifty piece of the competition is going to disappear. A quick internet search reveals that Indian is still looking to work their way out of bankruptcy, and may yet weather this storm. I sure hope that somebody with deep pockets and an appreciation for this American classic comes calling.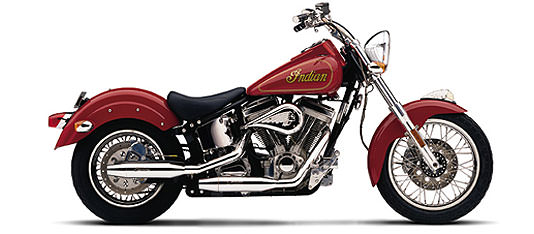 The above image of the amazing Indian Scout was grabbed from the official Indian Motorcycles web site.