Alrighty then.
I can honestly say that I did not expect to have to update my Don't Fuck It Up Republican Presidential Candidate Matrix this soon. A lot of thought went into the first version, and so it would take something pretty substantial to make a move on this baby. And then yesterday happened.
Turns out Rick Perry is a Birther.
He has lunch with Donald Trump, and now he's on the Birther train. Get out your tinfoil hat...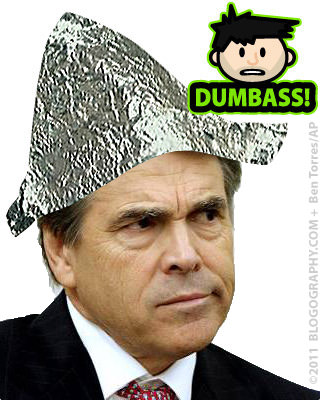 Photo by Ben Torres/AP (via NY Daily News)

Of course, he's a politician, so he has to wrap his bullshit in supposition...
Q. Governor, do you believe that President Barack Obama was born in the United States?
A. I have no reason to think otherwise.
Q. That's not a definitive, "Yes, I believe he—"
A. Well, I don't have a definitive answer, because he's never seen my birth certificate.
Q. But you've seen his.
A. I don't know. Have I?
Q. You don't believe what's been released?
A. I don't know. I had dinner with Donald Trump the other night.
Q. And?
A. That came up.
Q. And he said?
A. He doesn't think it's real.
Q. And you said?
A. I don't have any idea. It doesn't matter. He's the president of the United States. He's elected. It's a distractive issue.

"I don't know. Have I?"
What a fucking idiot.
If somebody... anybody... can offer up ANY ACTUAL EVIDENCE that President Obama's "long form birth certificate," WHICH HE HAD TO ABUSE HIS PRESIDENTIAL AUTHORITY TO GET RELEASED, is a forgery, then please do tell. But until then, wild speculation (even via dismissal) is not evidence of any conspiracy. So if you're not going to put up, then shut the fuck up.
Nobody can be 100% certain of much... not really... so being cautious in answering with definitives or absolutes is smart. Hell, I was not present at Barack Obama's birth, so even I cannot say with 100% certainty that he was, in fact, born at the time and place that's been claimed. But He has released the required documentation (AND THEN SOME!) to prove his citizenship. So what more is there to be said? Unless you have some compelling evidence to the contrary (which currently only exists in the demented minds of people like Donald Trump and Orly Taitz) you actually do, in fact, "have an idea." Even if it's an extraordinarily noncommittal idea...
"I have seen no evidence invalidating the documentation that's been released and approved so, yes, I believe he was born in the United States. It really doesn't make much sense to believe otherwise unless somebody can substantiate such a claim with actual evidence, not just wild speculation."
But nooooooo... Rick Perry has to be insane.
Which means he gets knocked down with the other crazies like Rick "Piece of Shit" Santorum and "Michele Bat-Shit Crazy" Bachmann...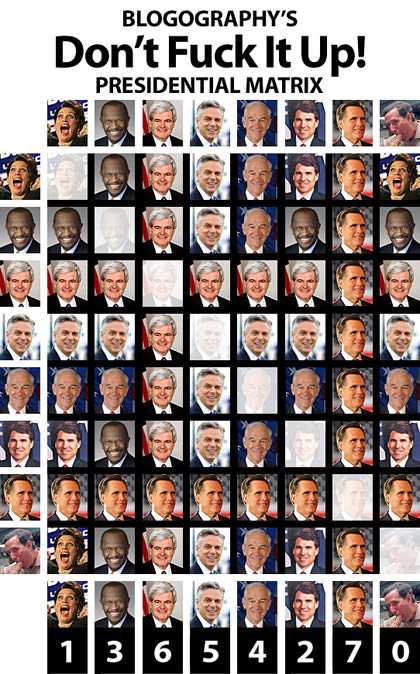 By the way, I'm still looking for evidence that Donald Trump is not a child rapist. I mean, come on, if he's NOT a pedophile sex fiend, where's the proof? Is it all a big cover-up? If he's innocent of sleeping with underage boys, why can't he just prove it once and for all so this speculation can end? It's not fair for the American people to be kept guessing over such important matters involving somebody so active in presidential politics. Child rape is a criminal offense for heaven's sake! Absence of actual facts proving he rapes children doesn't mean anything... we want proof of innocence!
Holy crap. I should have stayed in Australia.