Posted on July 14th, 2018

We're on fire again and smoke fills the air... but don't despair, because an all new Bullet Sunday starts now...

• M-S-G Can You Dig It? Absolutely fascinating...
I don't eat Chinese food hardly at all (it's not very good here, and choices for vegetarians are severely limited)... and yet I've heard the MSG myth forever.

• Monkey Business! In case everybody doesn't know... I put the first volume of Bad Monkey Comix up to read online for free. You can take a look by clicking on this image...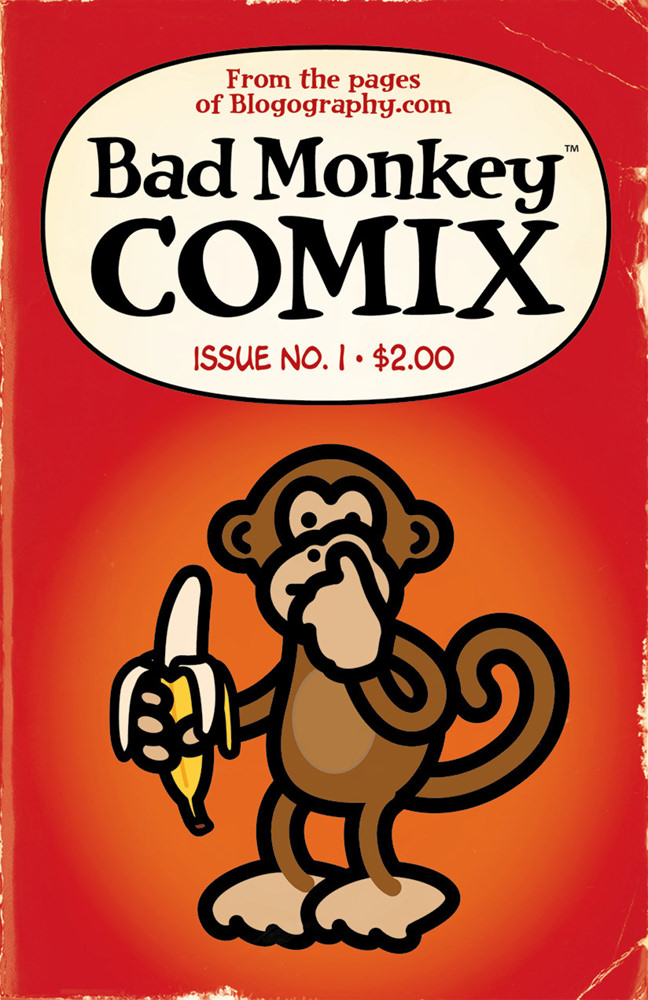 Or you can just click this link!

• New MacBooks! Apple's new "Pro" MacBooks once again lacking the ports that "pros" need to actually FUNCTION in their fucking JOBS. Such a crock of shit. DONGLES! DONGLES EVERYWHERE!!!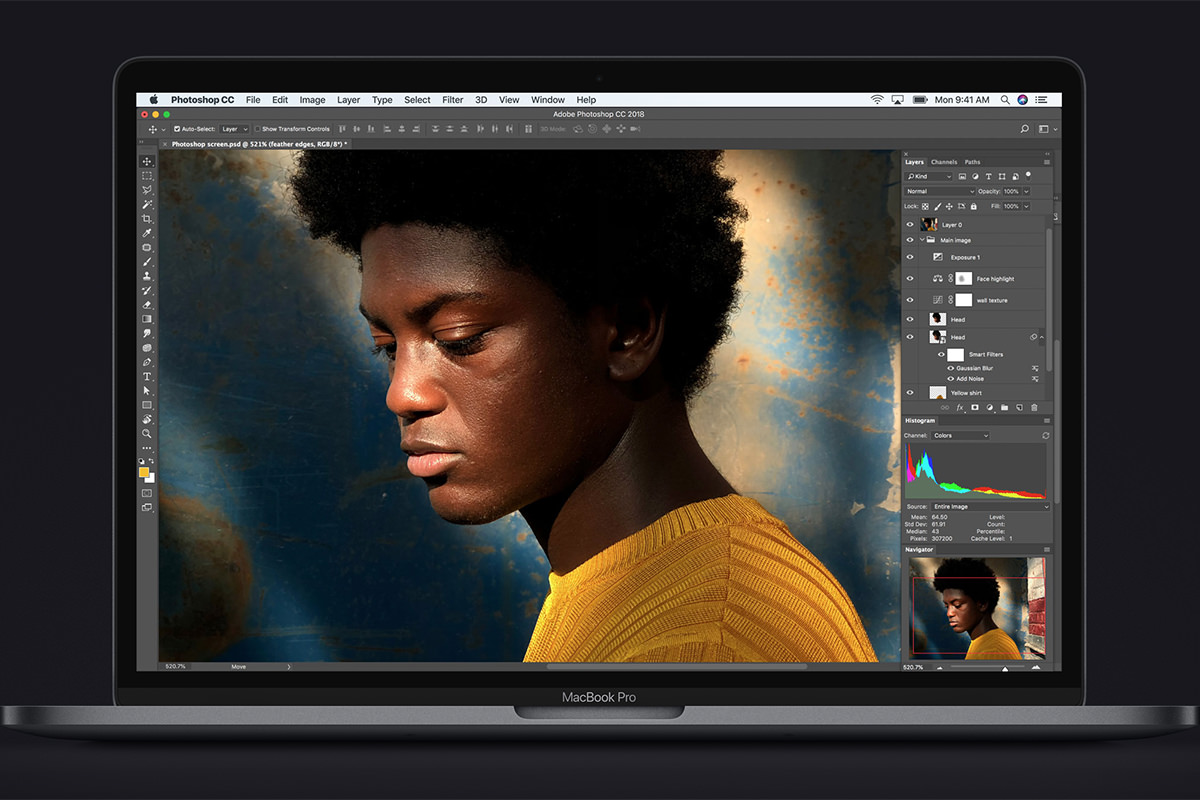 I thought that Apple was supposed to be working with pros to find out what they want in "pro" products? I don't think that's true. Otherwise they wouldn't be sticking with a shallow, shitty keyboard and no standard USB ports. At least you get more than one port now. Still no MagSafe, which sucks.

• Science Fact! Tom Bailey's new album, Science Fiction, is here! If you pre-ordered, it has probably arrived (my autographed copy of the deluxe set did!) but you can also listen to it on the usual streaming services. I'm saving my review for another entry, but here's a sneak preview: love it.

• Be You! Oh noes. Roll up on a woman, call her a slut because of what she is wearing, then think that you can then proceed to slut-shame her into submission? Not. This. Woman. Not today. My guess is not any day...
What absolutely kills me about this is how we rave about "American freedom"... but never seem to back that up. Whether it's telling a Muslim woman she's wearing too much... or telling this woman she's wearing too little... everybody is just DYING to tell OTHER PEOPLE HOW TO LIVE THEIR LIVES. Well fuck that. Live your truth. Be who you are. Defy those who would oppress YOUR FREEDOM by defining what it means for you to be free. So long as you're not endangering others, be free to be you.

• Incompetence. I have been trying very hard to keep politics off of Blogography because I don't want it degrading into a comedy of horrors that makes me want to slit my wrists every time I visit my own blog. But things are so bad right now. So bad. And people don't even seem to realize what's happening. The Trump Administration trade fiasco is probably going to damage this country more than anything so far. Companies are already laying off scores of workers because the reciprocal tariffs are making it impossible for them to operate. It's horrendous, and it's just the beginning. From Professor David Honig...
I'm going to get a little wonky and write about Donald Trump and negotiations. For those who don't know, I'm an adjunct professor at Indiana University - Robert H. McKinney School of Law and I teach negotiations. Okay, here goes.

Trump, as most of us know, is the credited author of The Art of the Deal, a book that was actually ghost written by a man named Tony Schwartz, who was given access to Trump and wrote based upon his observations. If you've read The Art of the Deal, or if you've followed Trump lately, you'll know, even if you didn't know the label, that he sees all dealmaking as what we call "distributive bargaining."

Distributive bargaining always has a winner and a loser. It happens when there is a fixed quantity of something and two sides are fighting over how it gets distributed. Think of it as a pie and you're fighting over who gets how many pieces. In Trump's world, the bargaining was for a building, or for construction work, or subcontractors. He perceives a successful bargain as one in which there is a winner and a loser, so if he pays less than the seller wants, he wins. The more he saves the more he wins.

The other type of bargaining is called integrative bargaining. In integrative bargaining the two sides don't have a complete conflict of interest, and it is possible to reach mutually beneficial agreements. Think of it, not a single pie to be divided by two hungry people, but as a baker and a caterer negotiating over how many pies will be baked at what prices, and the nature of their ongoing relationship after this one gig is over.

The problem with Trump is that he sees only distributive bargaining in an international world that requires integrative bargaining. He can raise tariffs, but so can other countries. He can't demand they not respond. There is no defined end to the negotiation and there is no simple winner and loser. There are always more pies to be baked. Further, negotiations aren't binary. China's choices aren't (a) buy soybeans from US farmers, or (b) don't buy soybeans. They can also (c) buy soybeans from Russia, or Argentina, or Brazil, or Canada, etc. That completely strips the distributive bargainer of his power to win or lose, to control the negotiation.

One of the risks of distributive bargaining is bad will. In a one-time distributive bargain, e.g. negotiating with the cabinet maker in your casino about whether you're going to pay his whole bill or demand a discount, you don't have to worry about your ongoing credibility or the next deal. If you do that to the cabinet maker, you can bet he won't agree to do the cabinets in your next casino, and you're going to have to find another cabinet maker.

There isn't another Canada.

So when you approach international negotiation, in a world as complex as ours, with integrated economies and multiple buyers and sellers, you simply must approach them through integrative bargaining. If you attempt distributive bargaining, success is impossible. And we see that already.

Trump has raised tariffs on China. China responded, in addition to raising tariffs on US goods, by dropping all its soybean orders from the US and buying them from Russia. The effect is not only to cause tremendous harm to US farmers, but also to increase Russian revenue, making Russia less susceptible to sanctions and boycotts, increasing its economic and political power in the world, and reducing ours. Trump saw steel and aluminum and thought it would be an easy win, BECAUSE HE SAW ONLY STEEL AND ALUMINUM - HE SEES EVERY NEGOTIATION AS DISTRIBUTIVE. China saw it as integrative, and integrated Russia and its soybean purchase orders into a far more complex negotiation ecosystem.

Trump has the same weakness politically. For every winner there must be a loser. And that's just not how politics works, not over the long run.

For people who study negotiations, this is incredibly basic stuff, negotiations 101, definitions you learn before you even start talking about styles and tactics. And here's another huge problem for us.

Trump is utterly convinced that his experience in a closely held real estate company has prepared him to run a nation, and therefore he rejects the advice of people who spent entire careers studying the nuances of international negotiations and diplomacy. But the leaders on the other side of the table have not eschewed expertise, they have embraced it. And that means they look at Trump and, given his very limited tool chest and his blindly distributive understanding of negotiation, they know exactly what he is going to do and exactly how to respond to it.

From a professional negotiation point of view, Trump isn't even bringing checkers to a chess match. He's bringing a quarter that he insists of flipping for heads or tails, while everybody else is studying the chess board to decide whether its better to open with Najdorf or Grünfeld.

— David Honig
This level of incompetence when it comes to trade is going to completely and totally fuck us. And make no mistake that we, as a country, are fucked. And this is just trade. We are equally fucked in many other areas. Which leads me to believe that President Trump thinks that the era where America was "great" is The Great Depression.
And don't think that just getting a new president in two years is going to fix the problem. The things that have been screwed up may very well take decades to correct. If they are correctable at all.

• Czech! Came home to see Stripes was on this past week. It was at the part where their unit has accidentally crossed the border into Czechoslovakia and so, naturally, they're all going to die. Amazing how international relations have changed within my lifetime. I've been to Czechoslovakia... and China... and Romania... and other countries it was assumed I would never be able to step foot in back in the day...
Of course... thanks to the ineptness of the Trump Administration, we may very well be going back to those times, so I guess I'm happy to have enjoyed it while it lasted. Pretty soon the only place that Americans may be able to travel is Russia and North Korea.

• Which Brings Us To... So... under President Obama we were the laughing stock of the world you say? What about now, you feckless ridiculous ignorant fuck?
The absurdity of where we are as a country keeps hitting new lows.

And, I think that's enough bullets for a smoke-filled Sunday. See you next week!
Tags:
Apple
,
Bullet Sunday
,
Davetoons
,
Dumbassery
,
Dumbfuckery
,
Music
,
Politics
,
President Trump
,
Travel
,
Trump's America
Categories:
Apple Stuff 2018
,
DaveToons 2018
,
Music 2018
,
News – Politics 2018
,
Travel 2018
—
Click To It:
Permalink
—
1 Comment: Click To Add Yours!
Posted on April 29th, 2018

An abundance of sunshine is headed your way... because an all new Bullet Sunday starts... now...

• Gnats! I don't live in the South. But this video made me LOL because most every year gnats show up for three or four days here and it's exactly this...
Another thing that came my way that got me to thinking is this story link, which is exactly the kind of thing you want to be thinking about since mid-term elections are seven months away.

• Four-Twenty Day! This is seriously funnier than most stand up specials I've seen...
Dayam!

• WHCD! This year they had another Daily Show corespondent host the White House Correspondence Dinner, Michelle Wolf. In my humble opinion, it was a less than stellar performance. Not because the things she said weren't truthful or relevant... I think she hit the right notes there... but because her humor wasn't landing. Skewering people is fine, that's what the dinner is for. But you have to make it sound more lighthearted than just being mean. I think back to Hasan Minhaj's brilliant commentary last year where he totally killed it without going vile, and feel that's a better take on how to do it...
Of course, everybody pales when compared to the absolute master of the White House Correpondence Dinner... President Obama...
Too good to be true in so many ways.

• Good Medicine! Then again, no fancy dinner can compare to a solid dose of truth delivered in desperate times...
This is where we are. The current administration is doing nothing to fix anything.

• Faux Friends! As for the actually president of these United States of America? Still unhinged, completely detached from reality, and bat-shit insane...
I have no idea... none... how anybody supports this deranged shit show.

• New Twins! It's no secret that one of my favorite bands of all time is the Thompson Twins. Which is why it's no surprise that I was thrilled when the group's front-man, Tom Bailey, started touring again. And now? New music!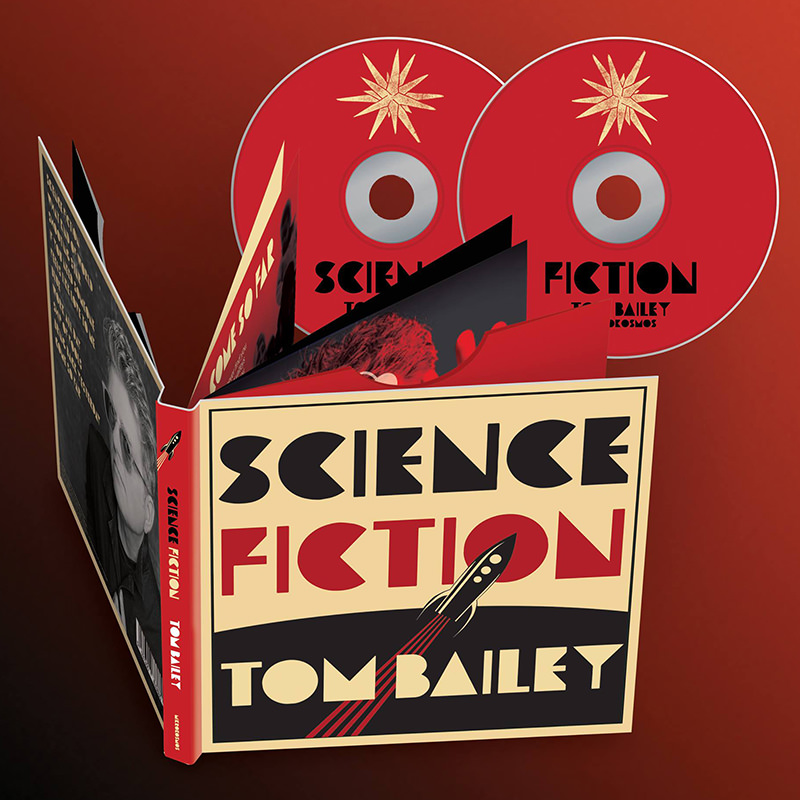 If you want to support his efforts (which will hopefully be more like a new Thompson's Twins album than anything radically different), you can head over to his page on Pledge Music.

Until next week, just keep swimming...
Posted on January 31st, 2018

Everybody: "Did you watch the State of the Union address?"
Me: "Fuck, no."
In an effort to remain more positive in 2018 than I was in 2017, I have made a huge effort to avoid things that will send me into fits of absolute rage.
Which is also why I am no longer accepting babysitting jobs. So please don't ask me.
Posted on January 9th, 2018

I've been telling y'all that I'm a stable genius for years.
If I become president on my first try, do you think people will start believing me?
Since it's never too early for a politician to start sucking lobbyist dick for campaign money, let's get this party started, shall we?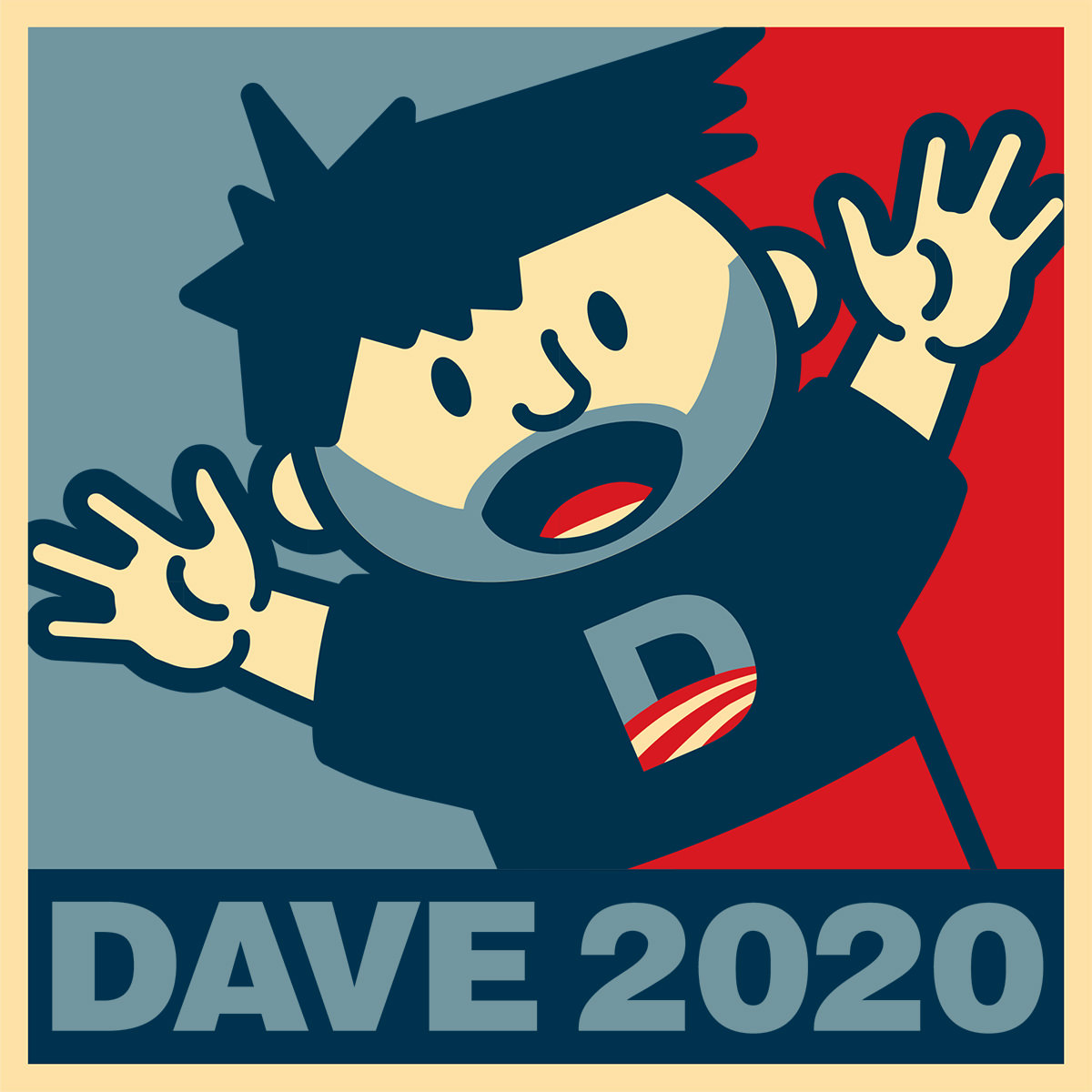 While donations to my "campaign" are not tax deductible now, they are a promise that, if elected, I will let you become a giant corporation and not have to pay taxes.
And don't worry what that will do to our economy, I'm totes going to make Mexico pay for it.
Posted on May 16th, 2017

If President Obama had disclosed classified information to the Russians under any circumstances, he would have been viciously attacked by the Conservative press until the end of time.
If President Obama had said "I have the absolute right to share information with Russia" after disclosing the classified information to them, a lynch mob would have formed outside The White House within the hour. Hell, there would probably be rioting as the building was set on fire.
And President Obama didn't even have accusations about colluding with the Russians hanging over his head.
But a Republican president with all kinds of sketchy Russian ties discloses classified information to the Russians and says he has the right to do it? The Conservative press is falling all over themselves to claim that the real problem is not President Trump sharing sensitive information with Russia... but that White House staff is undermining the president by leaking classified information on his dealings with Russia to the press.
So leaks are good.
Or bad.
Or good?
I dunno. It's most certainly bad when Hillary Clinton is careless with classified information. We all know that. THAT was enough to cost her the presidency!
So I guess it all depends on what day of the week it is.
And that you're not a Democrat, not black, and not a woman.
Or something like that.
I'd ask questions, but I don't want to be arrested. Because bend me over the Lincoln Memorial and fuck me with a tightly-rolled copy of The Constitution... this happened.
Welcome to fascism.
Posted on January 23rd, 2017

I touched on this yesterday, but the shit is really getting out of hand.
The loathing lobbied at both our former and current First Ladies has reached a level of toxicity so terrible that I'm almost afraid to login to Facebook or open Twitter.
Michelle Obama is one of the most beautiful, accomplished, and classy First Ladies to have ever graced The White House. The horrific racist comments and extreme levels of hate she endured on a daily basis breaks my heart. And yet she rose above and survived eight years of those who would demean, disrespect, and dismiss her. Michelle Obama is a role model of strength and conviction that has inspired the world in more ways than can be counted, and I am ever so grateful to have had her as a part of our First Family.
And now? Melania Trump looks like she's doing her level best to respect her new position and act with grace, dignity, and class. And yet her pick for a husband and past career choices are going to be wrapped around her neck like a boat anchor for the next four years. My heart goes out to her, and I truly hope that she has the strength to endure the hateful attacks that I keep seeing thrown her way over and over. I may loathe President Trump with the heat of a thousand suns, but he's earned that. From all appearances, First Lady Melania Trump has done nothing but try to be a good wife and mother in the face of overwhelming pressure. Her reasoning, her past, and her choices are hers. Until she proves me wrong, I'm just going to accept that she's done the best she can with her life and focus on the shit that actually matters.
But it doesn't end there.
Just as Sasha and Malia were the victims of disgusting attacks by their father's political opponents, now it's Barron Trump's turn.
Barron is 10 years old.
He's a 10 year-old kid.
I'm pretty sure he never signed up for this crap. I'm almost positive that he was never consulted over his father's words, actions, or political policies. He's just trying to be a kid under circumstances that would crush the strongest of adults... at 10 years old. His wealth and privilege aren't even on his radar yet. And nobody knows what his future holds. For all we know, he could abandon it all and become a monk... or dedicate his life to helping the poor... or use his wealth to benefit those in need. He is in a rare position to literally do whatever he wants with his future. Until he proves me wrong, I'm just going to accept that he's doing the best he can with his life and focus on the shit that actually matters.
And, needless to say, there's a lot of shit going on that needs focus right now.
Posted on January 22nd, 2017

Don't despair that The Age of Darkness is upon us, because an all-new Bullet Sunday starts... now...

• Inauguration! No, I didn't watch it. The last thing I felt like doing was celebrating a racist, homophobic, xenophobic, misogynistic, sexist, hypocritical bigot ascending to the highest office in the land. I did see photos in my newsfeed, however, and thought our new First Lady sure was lovely...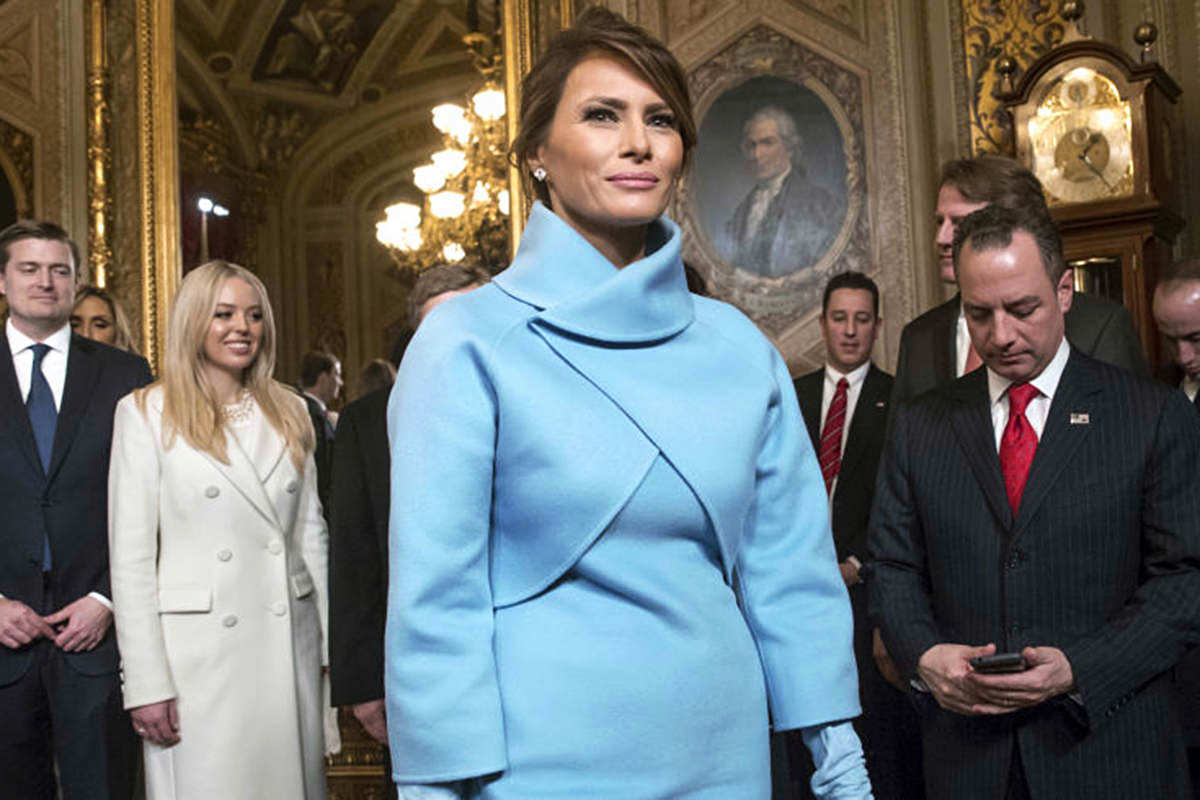 Photos from The Associated Press
Though she seemed to be channeling Jackie Kennedy's fashion sense...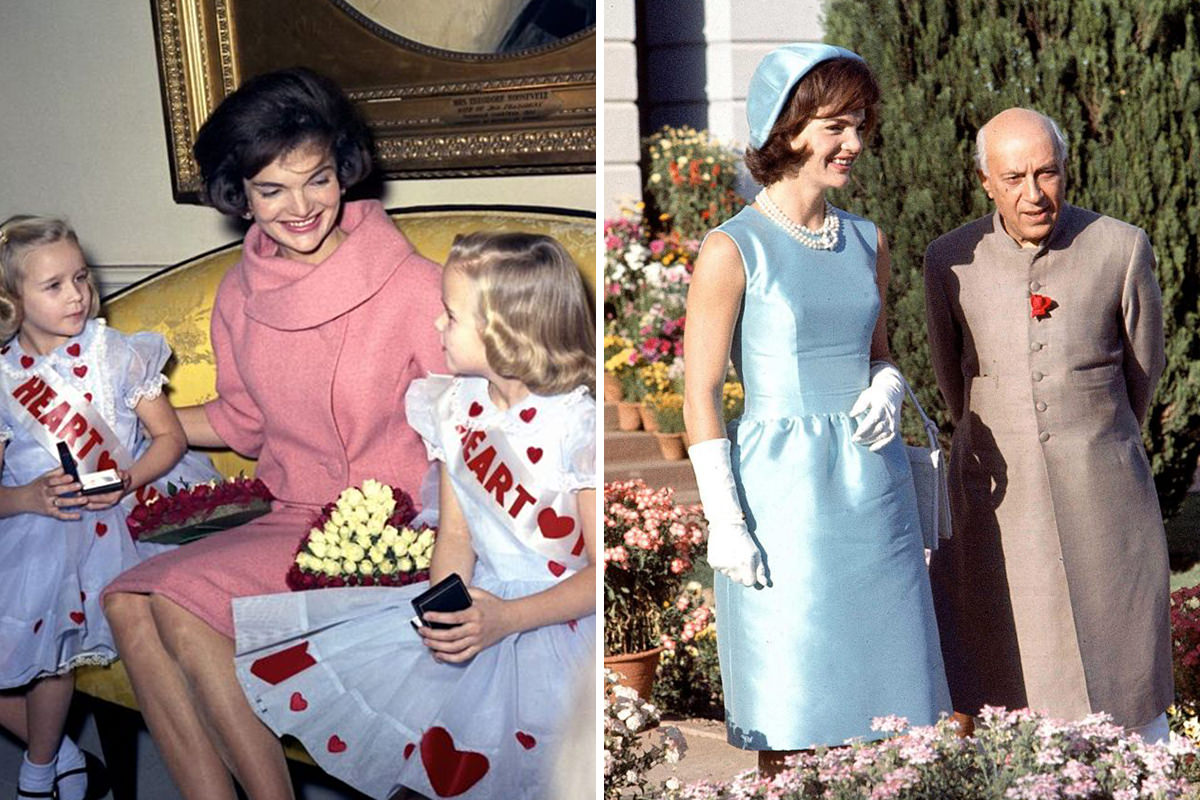 But, hey... if you're going to copy somebody, copy the best! Which is apparently what Trump's team did with the inauguration cake.

• Melania! I should confess that I have serious concerns for Melania Trump. What bothers me most is how badly our new First Lady has been slut shamed throughout the campaign because of her past. From all indications, she is doing her absolute best to be respectful to the role she has to play. She was radiant and classy at the inauguration. She seems genuine and sincere about living up to her obligations. She has even said she plans to use her new position to address such horrors as cyber-bullying. What more do you want from her? Go ahead and bash her for swiping First Lady Obama's speech or Jackie's clothes... or whatever... but not for her past, which was hers to live. In all likelihood, Melania Trump may well be the only thing that's half-way decent to come out of the Trump presidency, so cut her some slack.
Because her husband sure doesn't seem to. Facebook was exploding over the fact that President Trump seemed happy to ignore his First Lady at every opportunity. Given how nervous the poor woman appeared, this was kind of shitty... but not surprising. At The White House transition, he didn't bother waiting for her before bounding up the steps... then ignored her when it was time to go inside. Fortunately, President and Mrs. Obama were there to help...
Contrast and compare the same moment from the Bush/Obama transition (45 seconds in)...
And then there's this gem...
Stay strong, Mrs. First Lady!

• Size Matters. President Trump's obsession over the size of his crowd at the inauguration has me laughing so hard I almost can't breath. He even has his press secretary wasting valuable time admonishing the media over it. Like there's nothing more important for him to focus on right now other than how YUGE his crowds were? In all seriousness, YOU'RE THE PRESIDENT OF THE FUCKING UNITES STATES OF AMERICA, YOU PATHETIC PRICK! Is this the kind of petty dumbassery that's going to dominate your presidency for the next four years? Can you imagine the reaction by Republicans if President Obama were to spin his wheels over this kind of inconsequential bullshit? How fucking embarrassing for this country. Our Cheeto-Faced-Ass-Clown-In-Chief must have a penis the size of a Tic-Tac if something this idiotic has him so riled up. I can't wait until President Trump decides to compensate for his small dick by blowing off his YUGE nuclear arsenal. BWAH HA HA HA HAAA! We're all fucking doomed.

• Size Matters? In other news on crowd size... 20 Million Muslims March Against ISIS and The Mainstream Media Completely Ignores It. Because covering such a massive demonstration doesn't fit the media narrative that ALL MUSLIMS ARE TERRORISTS! How can people complain that Muslims aren't condemning Muslim extremists when something like this is out there?

• Size Matters! And then there was the Women's March on Washington (and numerous other cities) which was an attempt to remind President Trump that the women-folk aren't going to go quietly into the night as their rights are threatened. Whether it's defunding Planned Parenthood where many women in poor and rural communities are able to get care... or restricting access to abortion as guaranteed by The Supreme Court... or continuing to marginalize women when it comes to fair and equal treatment in the workplace... ladies everywhere were marching. Even in Antarctica...

Photo Credit to Linda Zunas
And that's all seven continents.
It would be nice to think that President Trump could take ten fucking minutes away from blowing himself on Twitter to use the march as inspiration to start taking women's issues seriously, but I think we all know that's not going to happen. Between shitting all over our military by saying rape is to be expected for women who enlist... to saying it's hard for women to be attractive if they don't have large breasts... to bragging about him sexually assaulting women... well, his record is pretty clear. And pretty disgusting. March on, ladies.

• Mantra! I keep seeing Republicans condemning people for not rallying behind President Trump "for the good of the country." Which is hypocritically insane given how they did nothing of the sort when President Obama took office. Both times. The unhinged reaction to Obama was based on outlandish shit that was mostly fantasy. The reaction to Trump is based on outlandish shit he's actually said and done. And while I usually attempt to take the high road and "rise above" when faced with this kind of crap, don't expect it this time around. Unless President Trump suddenly rejects all past action to become a shining beacon of tolerance, acceptance, equality, liberty, and freedom... he just doesn't deserve it.
Which is why I'm trying to come up with a song that I can use as a mantra for the next four years. I think I have it narrowed down to two...
It will either be this bit of genius from the movie Popstar by The Lonely Island...
OR... perhaps this classic from Lily Allen...
Decisions. Decisions.

And that's bullets for this Sunday. Fortunately President Obama never got around to taking our guns, declaring martial law, outlawing Christmas, enacting Sharia Law as a Secret Muslim, executing white people, putting everybody in FEMA camps, forcing everybody to get gay married, starting up death panels... or turned out to be The Antichrist... so I might just be back with more bullets next week.
Posted on November 13th, 2016

Hold on to your freedoms, fellow Americans, because an all new Bullet Sunday starts... now...
Here's my favorite reaction videos to the US Presidential Election. All of them were chosen carefully and each one is worth your valuable time to watch. But if you just want to go for the jugular, skip down to Jonathan Pie.

• Russell Brand. The title of this video is a bit misleading. This is actually quite insightful and more introspective than reactionary...
Indeed.

• Dave Chappell. God I've missed Chappelle...
I hope this truly is a comeback. We need his voice and his humor in the world... now more than ever.

• Samantha Bee. Still one of my favorite commentators on television...
Anybody who thinks a woman can't be funny... anybody who thinks a woman can't bring it... anybody who thinks a woman shouldn't be given a political soapbox... well, you can shut the fuck up now.

• Jonathan Pie. And then there's this bit of ass-kicking...
So much agreement. If only Democrats had this kind of clarity.

• John Oliver. And the one I've been waiting for...
Which pretty much sums it all up.

• And Because It Can't ALL Be Shitty. This may very well be the closest we ever get to The Fifth Element 2...
Nice! Though, oh man would I love to revisit The Fifth Element universe one more time.

And, speaking of time, mine has run out. See you after the anarchy begins.
Posted on November 9th, 2016

There are people I know who were so invested in the Clinton campaign... so certain of victory... that I am more than a little worried about their reaction to last night's election results. As you might guess, I am not so much upset by a Hillary Clinton loss as I am horrified by a Donald Trump victory. She was never my candidate. I never wanted Hillary Clinton as my president. But I was compelled to vote for her to prevent what's happening from happening.
Alas...
So where do we go from here?
President Elect Trump by word or by deed has painted himself to be a racist, a homophobe, a xenophobe, a misogynist, a bigot, and an all-around asshole.
That's a huge problem.
Electing Donald Trump sends a number of messages that have me fearful for my country. I honestly believe that some dear friends of mine are less safe now than they were yesterday. My gay friends. My Muslim friends. My poor friends. My Black friends. My Hispanic friends. My women friends. I worry about them. Which in turn makes me worry about all my friends, because we are all interconnected in a very real way.
And I'm worried about myself. I'm not a Christian. Is that going to be a problem for me? I have no illusion that the forthcoming legislation supporting "religious freedom" is a Christians-only club. What is that going to mean? I'm not gay but there are people that think I'm gay. Is that going to be a problem for me? The hatred and violence seen in some Trump supporters makes me wonder. This win for Trump has certainly given strength to the more dangerous elements of our society.
And so I worry.
I'm guessing I'll worry a lot over the coming days.
And I'm a straight, white, male!
That's not even the worst of it. For everything that Trump is and as worried as his presidency might make me... it's the fact that Mike Pence is one heartbeat away from The Oval Office that puts me in a full-blown panic. He is scary on a level that I can't even wrap my head around.
Seriously... Google that shit.
If you pray, pray for the health and safety of President Trump while he's in office.
You might also want to pray that President Trump finds the wisdom, the compassion, the patience, and the sanity to govern us well.
That would be great because I'd really like one less thing to worry about.