Posted on Saturday, January 7th, 2023

I swear I am not an overly-paranoid person... but sometimes the internet brings it out in me when something wildly coincidental happens.
Which in this case concerns kitty foot rubs!
First I posted on Facebook about Jenny loving foot rubs. So much so that from time to time she will insist on them. She'll plop down next to me and keep contorting herself until I relent and rub her fuzzy little feet. Like she did on Friday.
After she fell asleep I stopped so I could keep working. Big mistake. She started kicking me until I started again. The I stopped again. She started kicking me again. So I became stuck. Can't stop rubbing her feet or I get kicked...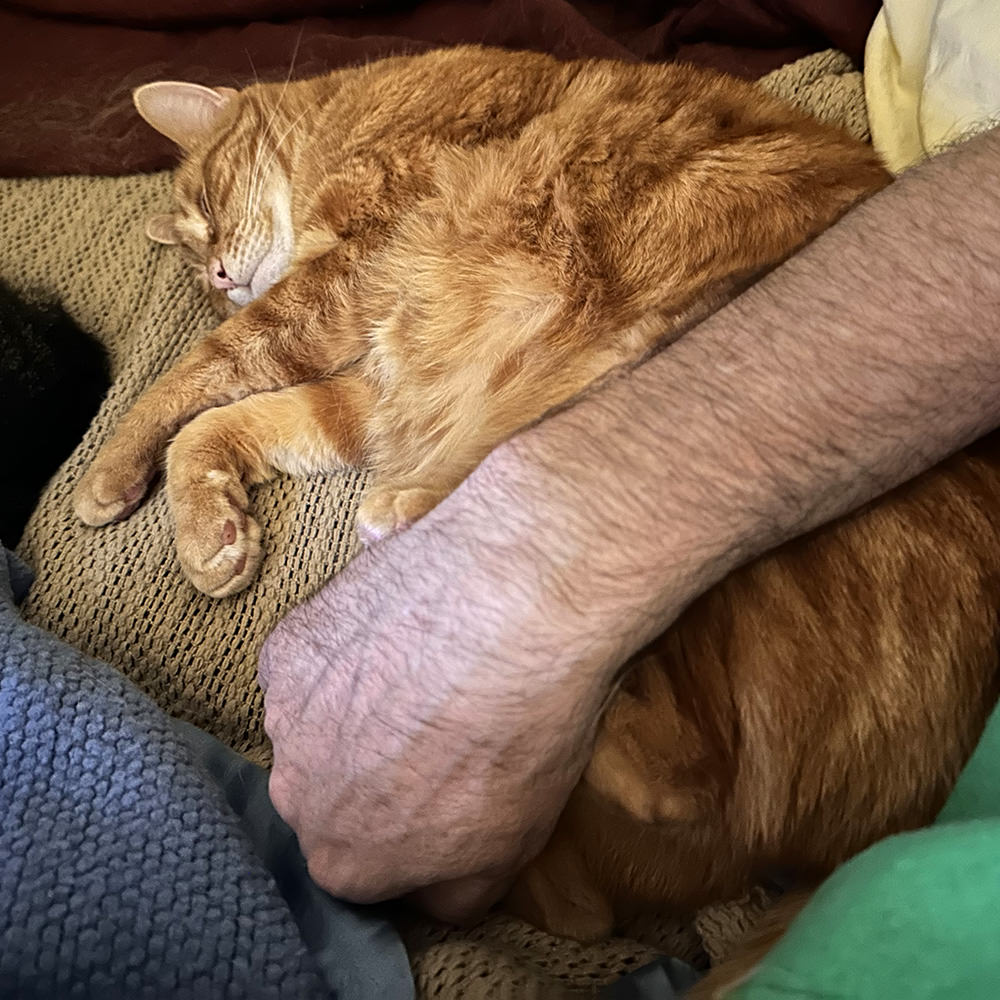 I've probably written about this before. I just find it so endearing because most cats don't want their feet touched at all.
And wouldn't you know it... right after I posted the above on Facebook, I drop by Instagram and see this...
Now, it's not a stretch to think that Facebook shared my post about Jenny's foot massage with Instagram. Facebook owns Instagram! And both posts clearly talk about kitty foot massages. But to have it happen this quickly? That's pretty darn... scary... I guess is the word I'm looking for?
Although I have to say... in this case I can't be mad about it if this is indeed what's happening. Just look at that cat! This is exactly what Jenny does!
Posted on Saturday, January 14th, 2023

This morning Jenny came in crying at 2:30am, waking me up. This is a rare occurrence, as my cats usually don't interrupt me when I'm sleeping. Unless it's an emergency. So you can understand my concern. I thought maybe something was wrong with Jake or the Litter-Robot needed to be filled or some other catastrophe. But when I wandered downstairs Jake was asleep on the cat tree and everything seemed to be well. When I got back upstairs, Jenny hopped on the bed and demanded to be petted... so I can only guess she had a nightmare or just woke up and needed to be petted.
At 2:30am.
A half hour later she wandered off.
After breakfast I nodded off and awoke to this...
I couldn't resist, could you?
Sorry, buddy.
Posted on Saturday, January 21st, 2023

Jake had been carting Mufasa around all day. The only time he was been without his favorite toy was using the litter box or eating. Just now as I was heading into the kitchen, I saw him sitting on the steps taking a break... and he managed to sit Mufasa down in front of him UPRIGHT. Which doesn't happen very often. I sneaked back into the living room to grab my phone, expecting him to move, but he didn't. So I managed to get a photo of it. Wouldn't look at me though. Intentionally looked away!
And then...
I decided I wanted to see him set Mufasa down upright, so I went back through the security tapes. And that wasn't even the best part of what happened.
First he set Mufasa down on the step...
Then he leaves!
Then he comes back...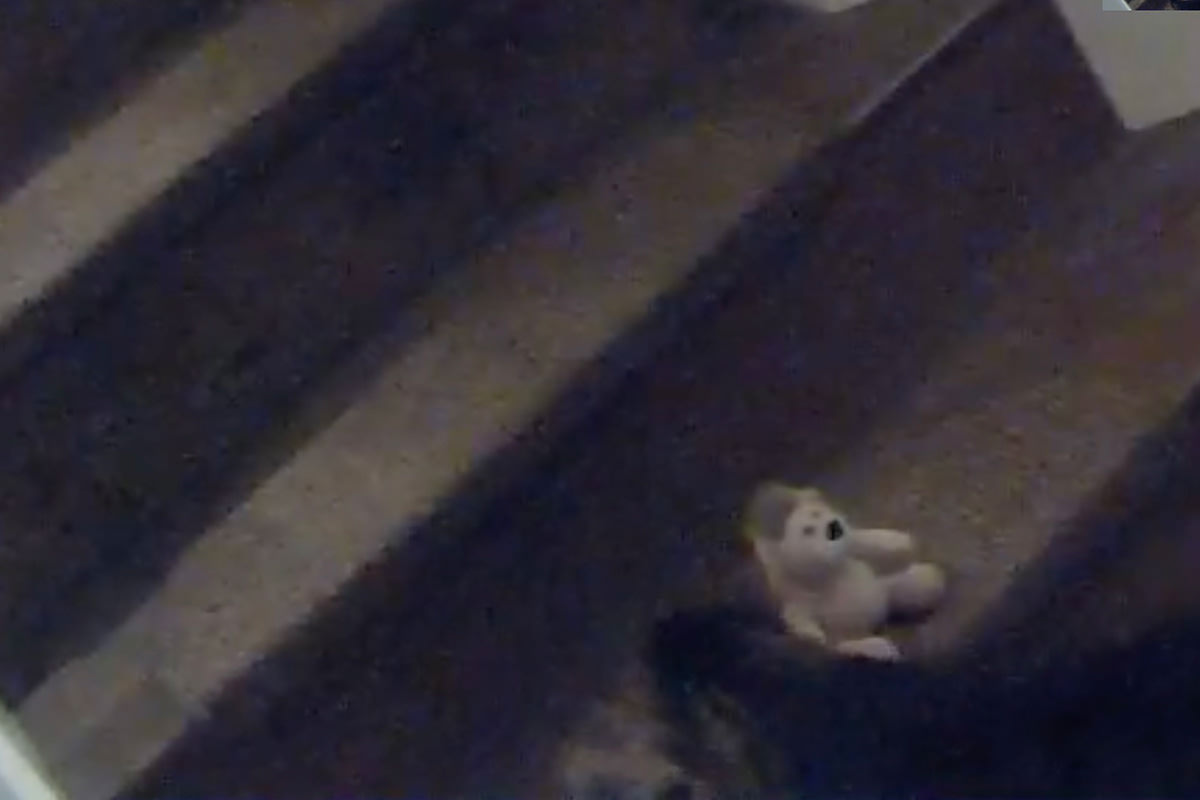 And plops down in front of Mufasa...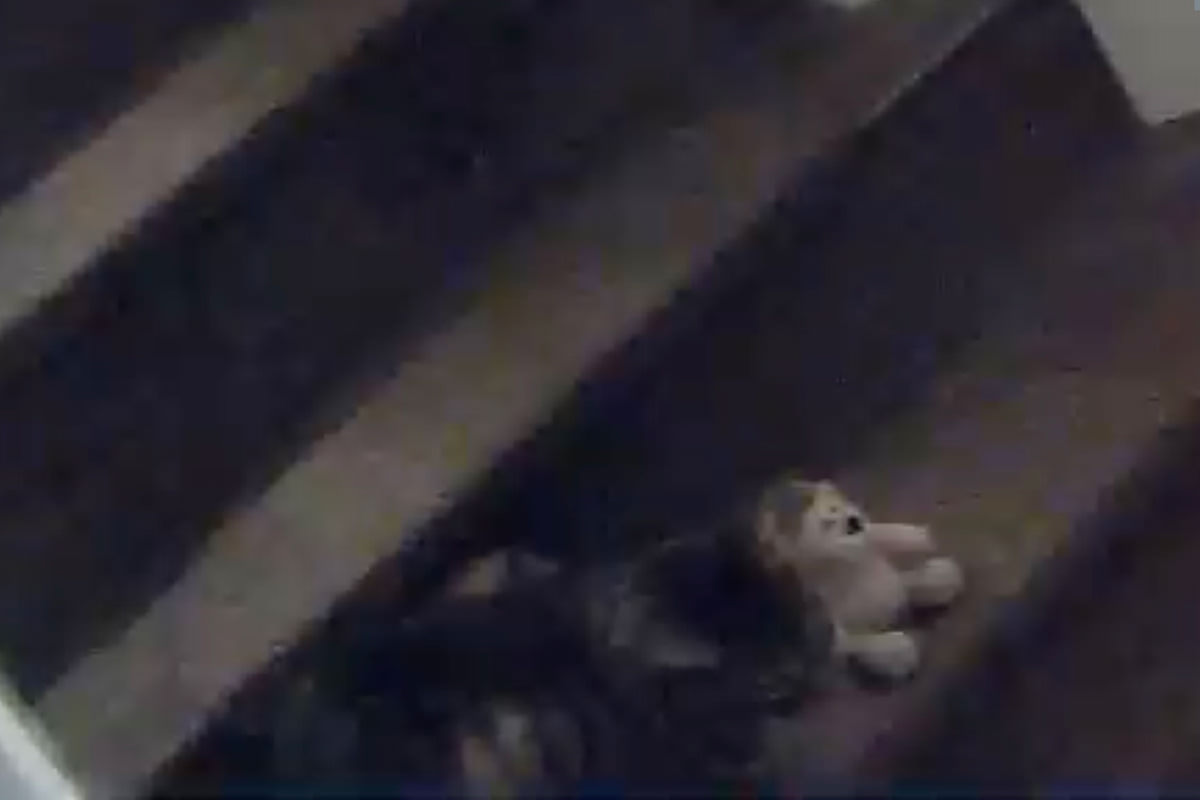 Which is when I saw him and got my phone to take a photo.
Posted on Saturday, January 28th, 2023

Vets can't come to a consensus on whether dry food or wet food is best for cats. So I feed them both. At 6:55am they each get a spoonful of wet food. At 7:00am they each get a small amount of dry food. At 7:20 they get an even smaller amount of dry food... AKA "Second Breakfast," because they will scarf it all down at once and might get sick if I don't split it up. At noon they get a small amount of food for lunch. At 5:55pm they get a spoonful of wet food. At 6:00pm they get a small amount of dry food. At 6:20 they get "Second Dinner." Then at 9:00 they get a tiny-tiny snack to carry them through the night.
These small amounts of food given throughout the day have worked best for Jake and Jenny, and there's no scarf-and-puke sessions when I go this route.
The wet food is indeed a small amount... 1/6th of a can twice a day. Jenny refuses to chomp anything wet, she just licks it, so hers is mixed with a little tap-water.
Last year I changed things up a bit. After each can was done, I split a packed of "Broths" between them. So it's 1/6 can at dinner, 1/6 can at breakfast, 1/6 can at dinner, then 1/2 a packet of broth for breakfast. Repeat.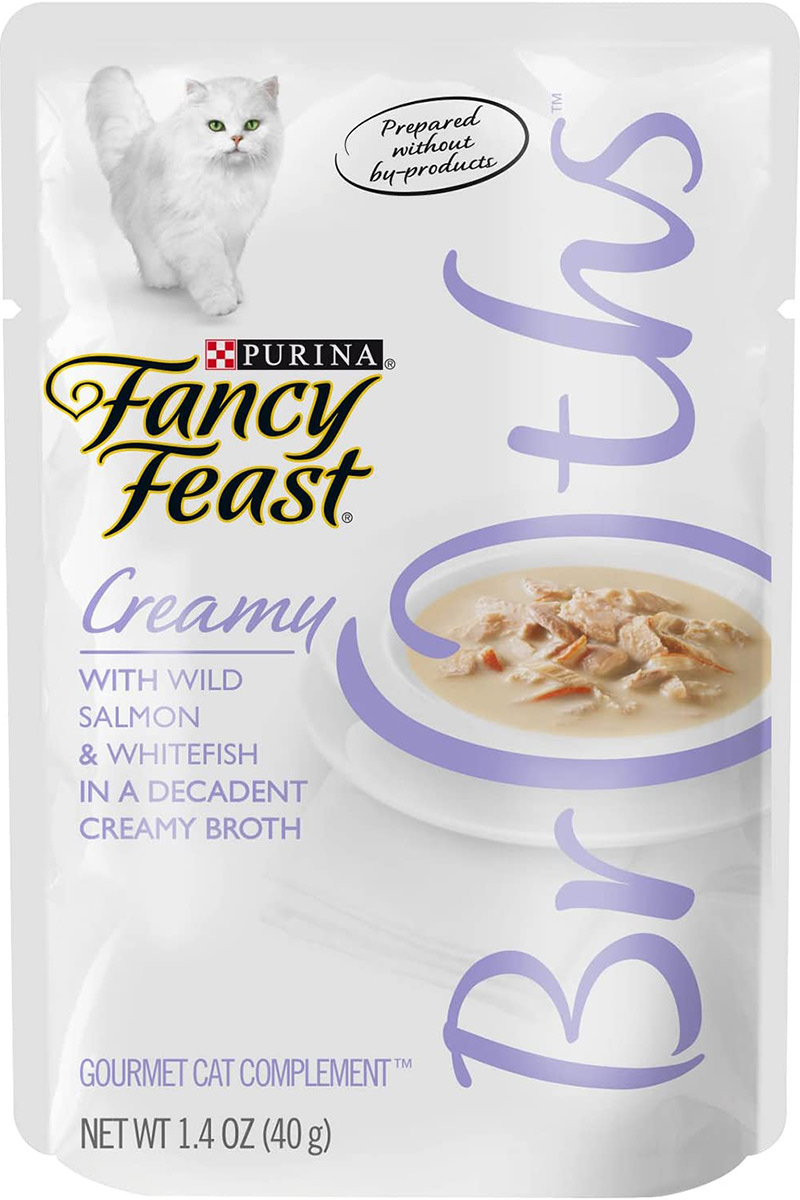 The stinkiest of all Broths... and Jenny's favorite!
I added the Broths for two reasons:
A) The fish oil in it does wonders for their coats... so soft!
B) The cats go bananas for the stuff.
Jenny's sense of smell is diminished, so her meal needs to stink a bit. Broths stink a lot, so it's like the best thing ever to her. The minute I tear open the packet and she gets a whiff, she meows and meows and meows until I hurry up and get it to her. Jake gets most of the fish chunks, Jenny gets the small pieces and most of the liquid so she can lick it up.
Then my house reeks of fish for hours, which is why they get it at breakfast before I leave for work. If they got it for dinner, I would be gagging while trying to eat my dinner, then trying to sleep through the stench of it all.
The things I do as a cat dad.