After I got back from Spokane last week, I had people asking me about the mass shooting at a high school there. Problem is... the school isn't in Spokane. It's a half hour away in the city of Rockford. Some news sources are saying that it's in Spokane... assumably because it's the closest major city... but they are essentially misreporting the facts. President Trump is right for once... FAKE NEWS is everywhere!
And I don't say that lightly.
Except, whereas President Trump means "Any news that is critical of me and doesn't agree with me is fake news"... I'm talking about news that is actually fake.
Everybody makes mistakes. We're human, and news agencies are staffed by humans. But what makes news "real" is that they print retractions or corrections or updates when they make a mistake. That's what news is supposed to be. FAKE NEWS is not when newspapers make an error. FAKE NEWS is when they cover up that error or even refuse to correct it.
Take, for example this story, as reported by The AP via Yahoo!...
The headline of "1 dead, 3 injured Washington State high school shooting" may be shitty grammatically, but is accurate. Problem is... that's not what the headline originally read. When I posted it to my Facebook account, it said "Spokane high school." I believe they even listed the location as SPOKANE, WA instead of ROCKFORD, WA (I wish I had screen-capped it). At some point, they changed it. They realized they made a mistake and they posted a correction. Good, that's the way it's supposed to work. Except when I click through to the story, the only correction noted is that they spelled a sheriff's name wrong. NOTHING about the headline being changed.
THIS is fake fucking news.
And it's not just The AP/Yahoo! Here are screen-caps I did take of other news stories that said the shooting took place in Spokane as well...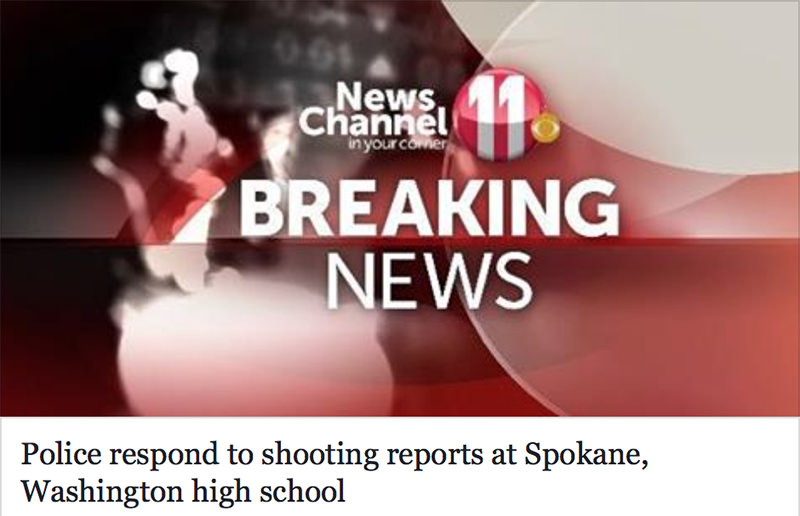 Yes, you read that right... that last one is from the fucking bastion of "honest news reporting"... CNN!
But when you search now? Most of them have changed from "Spokane" to "Spokane Area" or "Washington State" or "Eastern Washington." And the couple I checked made NO MENTION that they had revised the headline because the original headline was incorrect. They're still listing Spokane as the story origin though...


This may seem a little thing. "Rockford is close enough to Spokane, so what's the big deal? It doesn't matter!" Well, it does matter. Not only because an incorrect location for a school shooting could cause undo panic and stress for anybody with school-age relatives who read such a headline... but because it is indicative of things far worse. In the rush to report the news, agencies are misreporting the news. And this has consequences.
I will now be quoting from the song New Dress by Depeche Mode...
You can't change the world
But you can change the facts
And when you change the facts
You change points of view
If you change points of view
You may change a vote
And when you change a vote
You may change the world
The lyrics are what... 30 years old? And yet... more relevant than ever. It's as if they predicted our last presidential election. Listen to the whole song, it's quite a revelation...

You can't trust anything you see or hear in the media. Everybody has an agenda. Everybody is lying, exaggerating, distorting, or concealing the truth... or even presenting opinion as fact. Some of the offenders (like FOX "News") are obvious. Most are not.
But pay no mind to that!