I was tempted to resume blogging after Election Day so I wouldn't have to comment on the dumpster fire that is the United States presidential race... but here we are.
I would like to say that my feelings towards the candidates are nuanced, complex, and well-formed, but that's not the case. I loathe all the candidates... I especially loathe the Republican and Democrat candidates... and knowing that either Donald Trump or Hillary Clinton is going to be my president makes me want to vomit until I die.
My disdain of Hillary Clinton has nothing to do with all the idiotic rhetoric over current or past scandals, or her moronic email missteps, or her husband's indiscretions (?), or even Benghazi (of which a Republican-lead committee found no wrongdoing by Clinton). The simple truth is that Republicans have spent millions upon millions of dollars trying to hang her with something, but nothing ever sticks. Probably because Hillary Clinton is no more or less guilty of the crap that usually goes on with our corrupt politicians. So whatevs.
No no... my problems with Clinton have to do with actual stuff she's done as opposed to all the crazy accusations that plague her. And while there's a lot of examples I could provide, I'm going to limit myself to the two that boggle my mind most because they are almost never brought up.
War on Violent Video Games. You think Donald Trump can become unhinged? Turn the clock back to 2005 and the absurd level of hysteria that Hillary Clinton came up with in her quest to ban violent video games (which I'm guessing was an effort pander to Right-leaning voters). At first blush, it was an admirable effort to protect kids from mature material they were too young to process and give parents the tools they need to determine if the games they buy for their kids contained this material. Except her "Family Entertainment Protection Act" was more like a full-out, unconstitutional assault on artistic expression. Instead of ESRB ratings being a guide, they would be retooled to become law, and severe penalties would be levied against anyone who defied them. So, basically, you have a government entity dictating what they deem to be "age-acceptable" material to a private entity, whose findings would then be used by a government entity to enforce the law. What could possibly go wrong? Ultimately everything was so draconian and vague that developers would be discouraged from making "violent" video games just as retailers would be discouraged from selling them. The fact that Clinton is willing to drift into this level of anti-freedom censorship and make it become law (as a pandering measure!) is a deal-breaker for me.
Destabilizing the Middle East. If you consider my concern over video game censorship to be "petty" or even "alarmist" then there's something much bigger on my radar. Hillary Clinton is a total warhawk. Her actions as Secretary of State are reprehensible in this regard... particularly when it comes to Libya, a country her policy has decimated. Rather than retread on an area that was written about better than I could ever do, here's an article I highly recommend: Even critics understate how catastrophically bad the Hillary Clinton-led NATO bombing of Libya was. If you consider my condemnation of this kind of horrific "leadership" to be petty and alarmist, then there's absolutely nothing I can say to caution you against a Hillary Clinton presidency. Cast your vote with confidence.
And then there's this fucking asshole...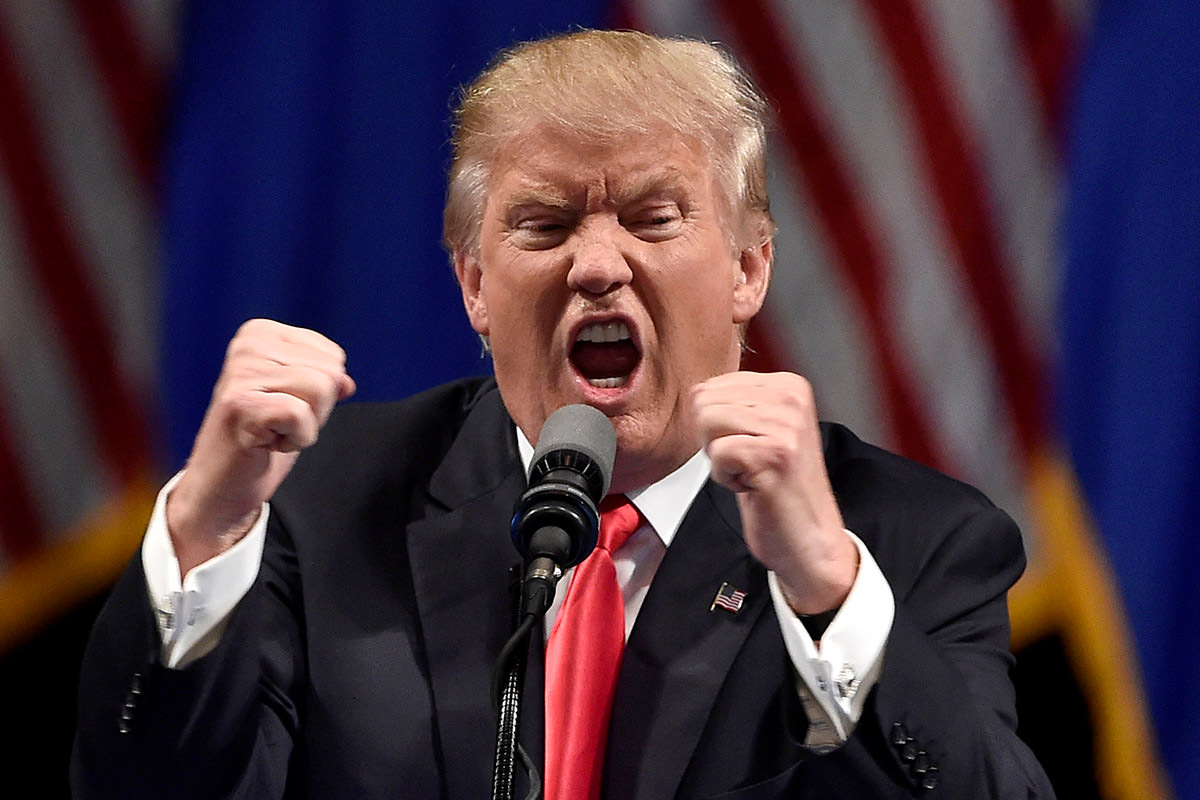 Photo credited to Newsweek/Photographer unknown
If the prospect of a Clinton 2.0 presidency is something that makes my stomach churn... the prospect of a Trump presidency has me borderline-suicidal.
Forget that he is a horrible businessman who regularly cheats hard-working people out of their livelihood to make a buck. Forget that he is a notorious liar whose dishonesty is so massive in scope and count that he makes Hillary Clinton look like a choirboy. Forget that he a vile excuse for a human being who gets off on demeaning others. Forget that he changes his mind on major issues at the drop of a hat and has no real plan for anything he promises (much of which is impractically impossible). Donald Trump is a racist, homophobic, misogynistic, foreigner-bashing, non-Christian-hating, ignorant, unstable, narcissistic, intolerant, bigoted piece of shit. And electing Trump is the equivalent of hanging a giant banner outside the country advertising the fact that we're a nation of racist, homophobic, misogynistic, foreigner-bashing, non-Christian-hating, ignorant, unstable, narcissistic, intolerant, bigoted pieces of shit. And that doesn't even address the embarrassment factor of having this ridiculous buffoon representing Americans on the global stage. You think we were the laughing stock of the planet during the Bush years? Try 1400+ days of Toxic Cheeto Jesus.
"President Trump" is the stuff of nightmares and goes against everything this country was built to be. So when I cast my vote for Hillary Clinton, a person I pretty much despise, it's not because I am "voting for the lesser of two evils"... it's because I am voting against the Ultimate Evil.
The United States of America cannot survive Donald Trump as leader of the free world.
But it may have to. For we are a nation not of the people, but of the Electoral College...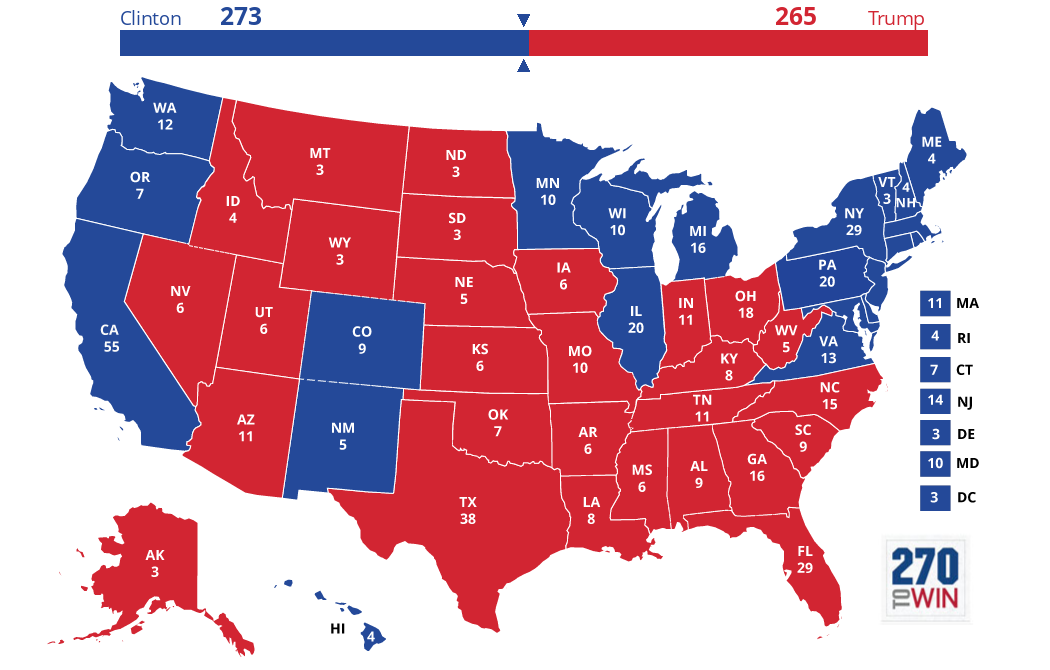 This map is an average of projections showing how each state is expected to vote. Blue States are for Hillary Clinton, Red States are for Fuckface von Clownstick. Note that any flip from blue to red of 5 electoral votes or more spells Trumpageddon. That's not a lot of wiggle-room. New Mexico decides they want fascist America, and that's what we are. One nation under Drumpf.
And so...
Brace yourself. I am of the opinion that no matter who wins, we all lose.
It's just a matter of how big.