A while back I wrote an entry about how I regretted that I would not be attending the BlogHer event this weekend, and how I felt left out because I thought it was for the ladies but found out that other guys were going to be there as well. I was mostly bummed not because I would be missing out on a session for MommyBloggers... but because all kinds of people were attending that I'd love to meet and hang out with.
Much to my surprise, one lady commenter was very happy that I would not be attending, and was seriously pissed off that ANY men were daring to show up. Apparently, BlogHer is a "serious forum" and a "safe space" for women bloggers to discuss the issues that face them, and men showing up would just ruin everything.
At first I approved the comment, then replied with some smart-assed remark about BlogHer being "just like Wonder Woman's Paradise Island" because men weren't allowed, and then explained that the last thing I would want would be to disrupt the event, and only wanted to attend so I could meet with bloggers I like and read. But, after a few minutes of reflection, I deleted the comment and my reply... I was in the middle of travel, and didn't want to inflame my comments section with a totally unnecessary battle of the sexes.
But the more I thought about it, the more pissed off I got. How in the heck would me showing up to BlogHer suddenly cause everything to be ruined? No longer safe? No longer serious? It was so ridiculous as to be absurd, and so I decided to send my "virtual self" to BlogHer and show that I am all about supporting the ladies, and would absolutely have something to contribute...
FIRST of all, I'm guessing that whoever is giving the keynote would be brushed aside because, let's face it, who wouldn't want me to keynote their event? My speech would be filled with all kinds of encouraging messages to women about how blogging allows their voices to be heard as never before in history... I would wax poetic about female empowerment in a so-called "man's world"... I would praise the progress of females in blogging and pay respect to the many ladies who have made me a changed man by their blogging efforts. When I left the podium, there would be thunderous applause and not a dry eye in the house...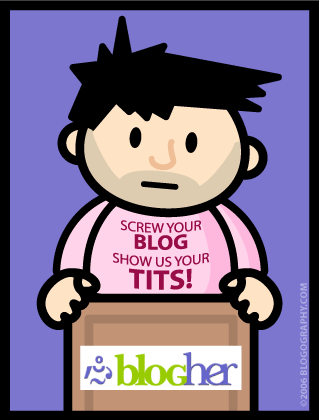 I can only guess that such a stunning performance in my keynote would result in my being asked to chair a few sessions about how to make a totally awesome blog. Since Blogography is the awesomest blog ever, it's only natural. I could do all kinds of sessions, but I think that one of my best-received would be how to improve your blog by adding photography...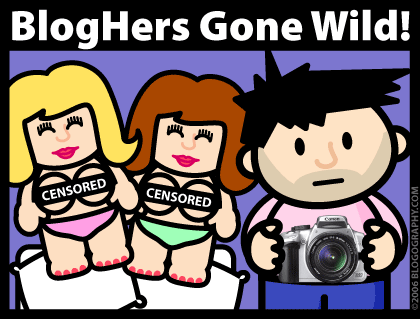 Or maybe a session about banding together and creating group blogs...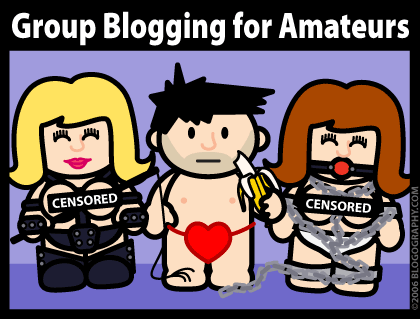 There's just so many things I'm good at that I'm sure to be an amazing asset at any event! I mean, who needs Arianna Huffington when you've got Dave?!? Sisters may be doin' it for themselves, but is that any reason to exclude your ovary-challenged counterparts in the blogosphere? I think not!
So ladies, please... leave your preconceived notions about the smellier sex at the door and embrace your fellow bloggers without prejudice. After all, we guys may have penises on the outside, but we're all about the vagina on the inside.
See you at BlogHer 2007!